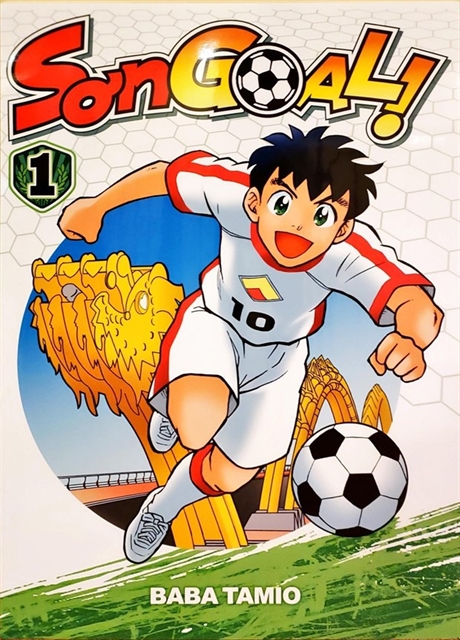 The cover of the first volume of "Son, Goal!". Photo courtesy of Kim Đồng Publishing House
HÀ NỘI Sơn, Goal!, the first manga series about Vietnamese football, has been released in Việt Nam.
The series is produced and published by Kadokawa JSC of Japan in coordination with the Kim Đồng Publishing House of Việt Nam.
According to Vũ Thị Quỳnh Liên, Deputy Director-Editor-in-Chief of Kim Đồng Publishing House, Sơn, Goal! is the first Japanese-Vietnamese cooperative manga series. It has been launched on the 65th anniversary of the establishment of the publishing house and the 50th anniversary of the establishment of diplomatic relations between the two nations.
Sơn, Goal!, illustrated by Baba Tamio, is about the journey of a boy named Sơn whose father is a Brazilian and mother Vietnamese. His family moved to Việt Nam when his father took up a job in the country. Here, Sơn met and made friends with a group of teenagers, and helped their football team become stronger.
Aoyagi Masayuki, Publishing Director of Kadokawa, told Vietnam News Agency that his company took part in a festival of Japanese manga publishers in Asia in 2018. Coming to Việt Nam, they realised that Japanese manga is popular among local children.
Seeing that happiness and enthusiasm of football fans cheering on the national team, the company came up with the idea of creating the series to inspire even more football love among Vietnamese youth, he said, expressing his hope that the book will be welcomed by not only children but also adults as its content suits readers of all ages.
Kadokawa plans to produce more manga series for the Vietnamese market in the future and also wants to try the novel and animation areas.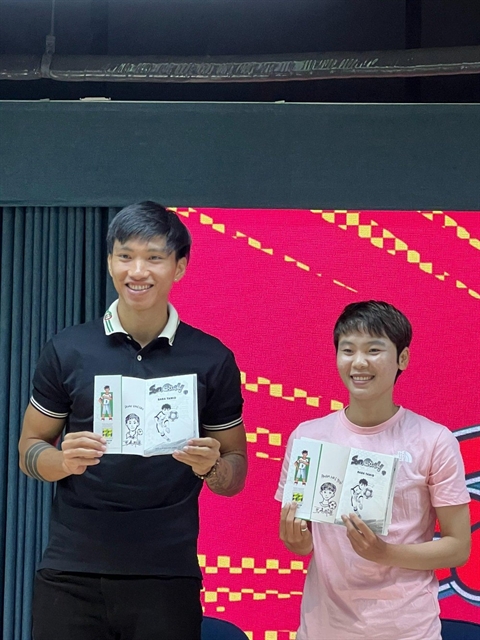 Vietnamese players Đoàn Văn Hậu and Phạm Hải Yến at the launch of manga series Sơn, Goal!. — Photo tienphong.vn
Artist Baba Tamio, said that football gave him the opportunity to become a manga author. Set in Việt Nam, the work is not only for Vietnamese readers but also for others around the world.
"'Football will be the common language to help us understand each other," Tamio told Tiền Phong Newspaper.
"That is the message that the book wants to convey. We expect the manga series Sơn, Goal! to help Vietnamese children see the importance of friendship and the effort to strive together, as well as how wonderful football is."
Nguyễn Võ Huyền Dương, a representative of the Vietnam Football Federation (VFF) in Japan who has connected the two publishing houses, said: "I realised that I had to do something to convey Việt Nam's enthusiasm and passion of football to the Japanese.
"During a long time living in Japan, I found that the country is the birthplace of the world's most popular manga series. Therefore, I think that there is no shorter and faster way than through comics to realise that aim.
"That's why we have chosen to collaborate with Kadokawa Publishing House to publish a manga series about Vietnamese football."
He also revealed that the Japanese version is expected to be available in early 2023.
Sơn, Goal! could be bought at any bookstores or website of Kim Đồng Publishing House. VNS