Basketball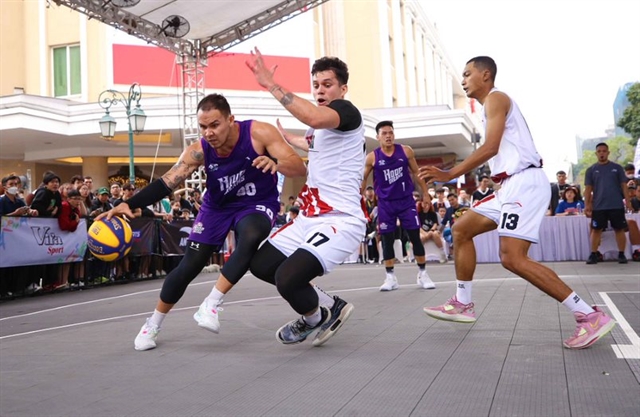 Some of the action between Hoop Dreams of Thailand and HCM City-based The Performance Lab on March 18. Hoop Dreams won 21-20. Photos courtesy of the organisers
HÀ NỘI —The Việt Nam Basketball Association 3x3 Prime Men Pro tipped off on a vibrant Saturday morning in Hà Nội, with 11 clubs vying for the championship title.
Hoop Dreams of Thailand got off to a strong start, narrowly defeating HCM City-based The Performance Lab 21-20.
Meanwhile, Cần Thơ Catfish suffered a tough 11-18 loss to Vietnam Bumblebees, and Ares BKK from Thailand were defeated 7-16 by HCM City Wings.
Thăng Long Warriors emerged victorious, beating Malaysian Rising Star 22-7, while New Sports lost 14-21 to Việt Nam Selection.
The tournament promises to be action-packed, with 11 more matches scheduled for the afternoon and evening. The top eight teams will advance to the quarter-finals, to be held on the morning of March 19.
The semi-finals and final will follow later in the day.
This two-day event is the first of three stops on the VBA 3x3 Prime Men Pro circuit, with the second scheduled to take place from March 25-26 at Tuệ Tĩnh Park in Nha Trang City, Khánh Hòa Province.
In addition, the VBA 3x3 Women's tournament will also be held at the same venue from March 24-26.
To keep the crowds entertained during breaks in the action, the organisers have arranged dunk contests and other activities, including basketball 1x1 for U15s, music and performances.
Fans can also enjoy up to 50 per cent discounts on products from Anta, the official uniform sponsor of the tournament.
Trần Chu Sa, VBA Chief Operating Officer, noted that the 2022 VBA 3x3 was a milestone for Vietnamese basketball, the country's first-ever multi-stop tournament.
The tournament allowed the Vietnamese national team to hone their skills ahead of the SEA Games, where both the men's and women's squads won silver medals last year.
This success has encouraged the VBA to expand the tournament, add a women's category to the schedule, and increase the number of participants.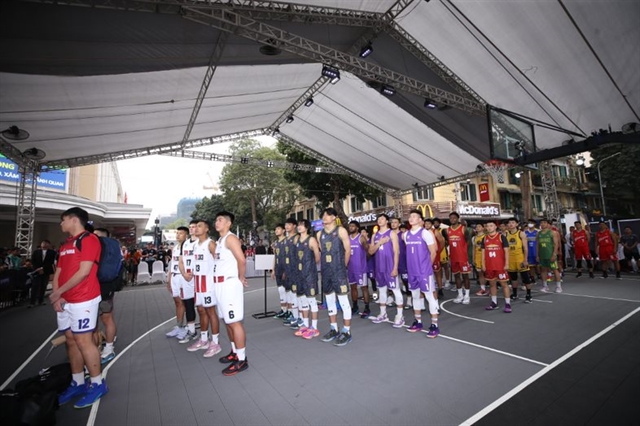 Teams at the 2023 VBA 3x3 Prime Men Pro.
"This year, we have received strong support from VTVcab, a co-organiser, and New Sports, a coordinating partner, to hold the VBA 3x3 Prime," Sa said. "I believe that it will become an annual event and make its name internationally. Through the tournament, we also hope to develop the local basketball movement and find talents for the national teams."
VBA 3x3 Prime will be live aired on ON Sports Action and ON Sports channels. Apps VTVcab ON and ON Plus, plus fan pages On Sports, VBA, Youtube On Sports Plus and Youtube On Bóng Rổ, will also broadcast matches.
More information about VBA 3x3 Prime can be found at https://3x3.vba.vn/. VNS