University Games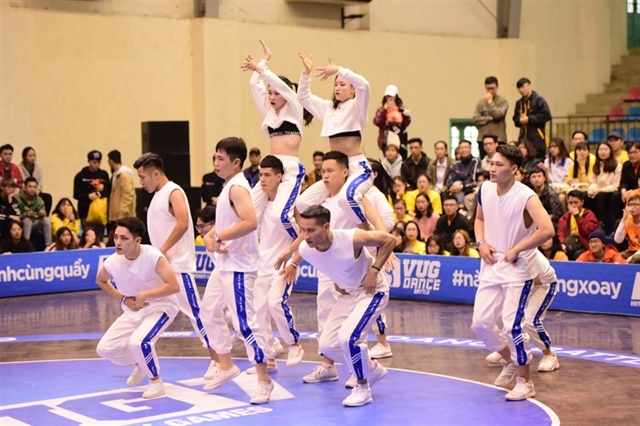 Dance battle is one of six sports at the 2023 Vietnam University Games. This year's tournament will be co-organised by the Việt Nam Student Association Centre Committee and VTVcab. Photo usth.edu.vn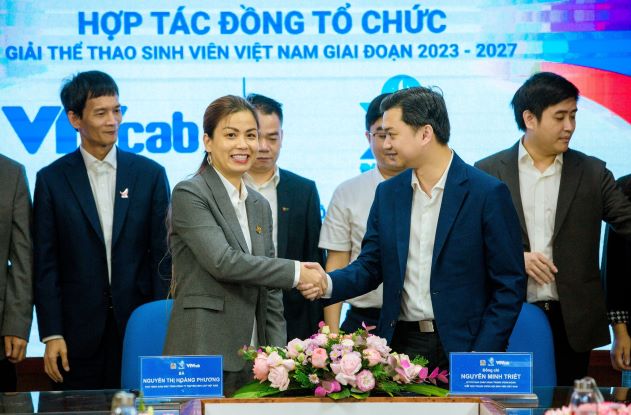 Chairman of the Central Committee of Việt Nam Student Association Nguyễn Minh Triết (right) shakes hands with VTVcab Deputy General Director Nguyễn Thị Hoàng Phương after the two sides signed a cooperation contract of VUG on March 17 in Hà Nội. Photo of organisers
HÀ NỘI — The Central Committee of the Việt Nam Student Association and the Việt Nam Television Cable Corporation (VTVcab) on March 17 signed a contract to co-organise the Vietnam University Games (VUG) in 2023-27.
VUG has been the largest annual sporting event for students for 10 years under the management of the Việt Nam Student Association Central Committee.
The event has blown fresh air into the academic atmosphere of millions of students nationwide, establishing a new lifestyle, making them more dynamic and improving their love and pride with their schools.
The tournament with three different sports is organised every year with a view to push the practising of sports among students and create a generation of young people with five good characters: good morals, good study habits, good physical fitness, good volunteering habits, and good integration.
It is also to find and promote students with sporting talent who can contribute to Việt Nam's success in international competitions.
In 2013-2022, 18,500 student-athletes of 408 colleges and universities took part in the VUG. The games also lured the attention of more than 2 million spectators to gymnasiums, nearly 3 million online interactions and 15 million TV views each year.
In the new period, there will be six sports - futsal, dance battle, running, basketball 3x3, football and esports - double the amount compared to the past decade.
Following the deal, the two sides will organise and broadcast those six sports in 2023. From 2024 to 2027, while these sports remain, more sports would be added based on demand and the agreement of both sides.
"This ceremony marks the first time VTVcab joins in the organising activities of the VUG. I believe that given their experience in producing and distributing digital content, especially sport programmes, VTVcab will help push and popularise the VUG's scale and quality nationwide," said Nguyễn Minh Triết, chairman of the Việt Nam Student Association.
"The cooperation is expected to lift the Games to new heights, bring positive energy and healthy habits to students and contribute to the comprehensive development of Việt Nam's young generation," he added.
On the other side, Nguyễn Thị Hoàng Phương, VTVcab deputy general director, said VTVcab has accompanied different partners to host and organise national sports tournaments for many years.
From these events, many sporting talents have been scouted and Việt Nam's sports movement has strengthened remarkably.
"The cooperation of VTVcab and the Việt Nam Student Association will make the VUG larger, more professional and stronger," Phương said. VNS