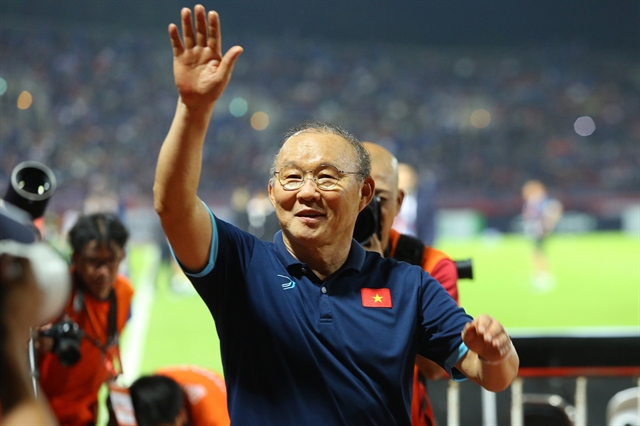 Park Hang-seo will hold a meeting to thank the fans before he bids farewell to Việt Nam and returns to South Korea. — Photo baoangiang.com.vn
Football
HÀ NỘI — Before his contract with the Việt Nam Football Federation (VFF) expires, coach Park Hang-seo will hold a meeting with fans to thank them before he bids farewell to Việt Nam and returns to South Korea.
Coach Park's contract with VFF expires on January 31, ending five successful years with many impressive achievements.
Park's agency (DJ Management & Inspired Asian Management) made the announcement on its homepage.
"During the five years of dedication to Vietnamese football, coach Park received unending love and support from the fans. DJ Management and Park have put together a fan meeting event to express Park's appreciation for the fans who have always accompanied him in his time in Việt Nam."
The event will be held at Athena Room 2, Hà Nội Grand Plaza Hotel, from 6pm to 8.30pm on February 2.
The 30 luckiest fans will receive souvenirs, including Park's badge, a Park autographed ball and many other attractive gifts.
The South Korean coach has gained legendary status in the country after leading a golden generation of talent that excelled both at regional and continental levels.
When he took over the Vietnamese national team in 2017, at the AFC U23 Championship in China, coach Park made a big splash when his team overcame many opponents to finish second.
A year later, Park's team triumphed at the AFF Cup 2018. Then, Việt Nam reached the quarter-finals of the AFC Asian Cup 2019 in the United Arab Emirates, where they ultimately lost 1-0 to Japan.
Park's team also made their first appearance in the third Asian qualifying round of the 2022 FIFA World Cup. Although they were ultimately unsuccessful, they put in some noteworthy performances, including beating China 3-1 and drawing 1-1 with Japan. — VNS