Triathlon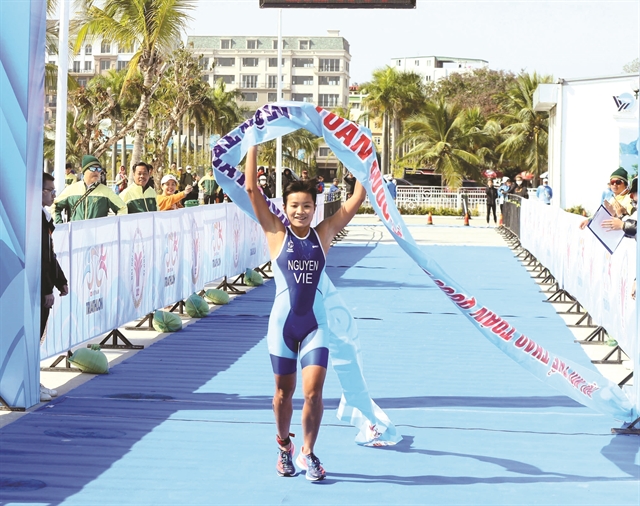 Nguyễn Thị Kim Cương crosses the finish line of the National Sports Games' women's triathlon event in December in Quảng Ninh Province. — VNA/VNS Photo
Thanh Hà
She is small and underweight yet strong and iron-willed. With her sporting achievements, she has proved that size and experience are not the only key components of an athlete's success.
Nguyễn Thị Kim Cương is a cyclist, but expects to win Việt Nam's first medal in triathlon at the coming Southeast Asian (SEA) Games in Cambodia this May.
A woman of sports
Born in 2000 and growing up in the Mekong Delta city of Cần Thơ, Cương was recruited for the city's junior swimming team when she was an 11-year-old fifth grader. Two years later, she became a member of the national youth squad, but it seemed swimming was not ideal for her.
"I grabbed silvers and bronzes, but don't remember how many because it was so long ago. I was picked to the national junior team then, but I felt not suited to be a swimmer," Cương told Việt Nam News.
"Swimmers tend to be above-average height with long torsos and upper limbs. I am not. I am small, as you can see, only 1.53m and 45kg. So I left."
Cương was then introduced to the cycling team, and when she agreed to make a move, it proved a turning point in her life.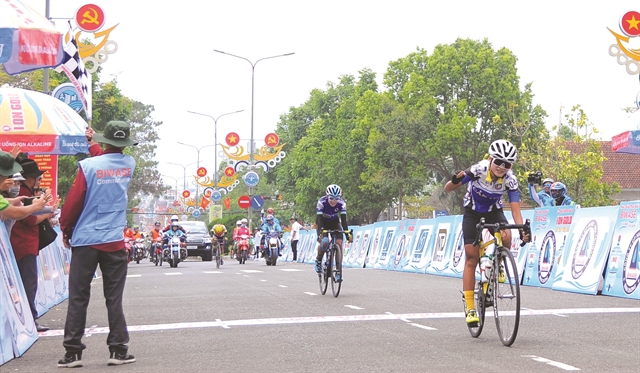 Nguyễn Thị Kim Cương wins the third stage of the 2021 International Bình Dương Television Women's Cycling Tournament. The young athlete overcomes many strong cyclists to finish second overall. — Photo thanhnien.vn
"It is the sport for me, I think. Cycling does not require a typical body like swimming but endurance and strong fitness that I already have," Cương said.
She had to train daily to become familiar with the cycling technique and qualities such as strength, speed and endurance.
"I have to do different exercises like weightlifting and running to improve my physical strength and muscular and anaerobic endurance and power in particular. It is exhausting, but I can make it," she said.
The girl did not receive family support because her parents were afraid of injuries that she could suffer. They thought cycling was a dangerous sport as many cyclists have faced life-threatening accidents.
"Yep, I have fallen many times and suffered uncountable serious scratches and scars. My parents prevented me from cycling, but I made my own decision. It is my passion, and nothing can change," she said.
"I promise them that I will always be careful and take care. However, injuries still happen sometimes."
The talented woman did not need not too much time to make her first achievements in cycling.
"After tests and several weeks practising, coaches found that I am good at mountain biking because of my lightweight, which helps me be faster, and my strong fitness takes charge of injury prevention, power and longevity," she said.
Under the Cần Thơ team, she won bronze medals in the national junior championships in 2015-18 while she grabbed a white jersey for the best young athlete at the prestigious International Bình Dương Women's Cycling Tournament three years in a row from 2019-21.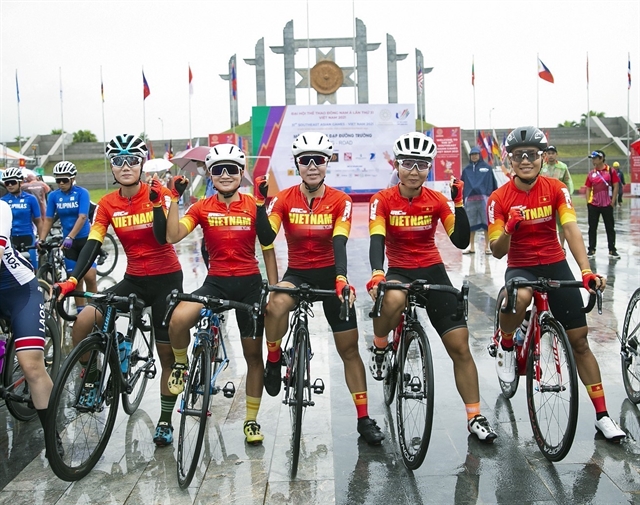 Nguyễn Thị Kim Cương (2nd from left) and teammates before competing in the women's road race event at the May 31st SEA Games in Việt Nam. — VNA/VNS Photo
She was called to the national team for Việt Nam's 31st SEA Games last May.
In her regional biennial tournament debut, Cương and three teammates successfully took the top position in the road race event, leaving behind powerful Malaysia and Thailand.
"One week before the Games, I fell in a training. It really hurt but could not prevent me from competing. I was not scared or worried but excited for my first SEA Games," she said.
"All the sacrifices are worth the feeling of having a national flag draped around my shoulders, standing on top of the podium and singing the national anthem. Nothing can compare with the feeling of triumph. My SEA Games debut was a happy milestone which made me more confident in my ability. I will try to maintain my best as long as possible."
Coach Ðặng Trung Hiếu was impressed by Cương's performance, saying she showed great progress in a short time training with the national team.
The SEA Games gold was clear evidence of improvement after her silver medal from the Bình Dương TV tournament in 2022.
Nguyễn Thị Kim Cương (1st right) celebrates SEA Games victory with teammates. — VNA/VNS Photo
Eyeing triathlon
In 2021, it was suggested Cương take part in the TRI Factor Việt Nam, a tournament for triathletes containing swimming, biking and running.
Cương was a new face in triathlon and had not had a single day to practise before race day. However, she overcame all the title favourites and experienced athletes to take the top podium in the women's standard category (1.5km swimming, 40km cycling, 10km running).
The tournament was a selection event to choose athletes for the 31st SEA Games. With the title, Cương automatically secured a place in the national team, making her a rare case of being named in two national teams of Việt Nam at the same time.
"I chose the cycling team. I could not believe that I won the Tri Factor title because it was a race for iron men and women while I was just taking part for fun," said Cương.
But Cần Thơ's sports officials thought differently. They considered Cương a hope to win a gold medal in the National Sports Games, which took place last September.
Cương had three months preparing for the Games and did not disappoint. She won titles in both individual and team events.
In the individuals, Cương finished first with a time of 1hr 14.38min, four minutes faster than Nguyễn Thị Trà My of Hậu Giang Province and nearly 10min faster than Lâm Túc Ngân of HCM City. She completely dominated.
While My is the most experienced athlete in national triathlon, Ngân is even more famous as she is the first and only Vietnamese to take part in the World Ironman Championship, twice.
"I heard about them before the tournament. But I was not scared. I just tried to complete my best race," Cương said.
She was the third woman to finish the swimming leg, but went into the lead because of her strong point in biking, leaving other rivals far behind. She continued to lead in the running, crossing the finish line first.
"I knew they were strong, but it seemed I was stronger than them," Cương laughed.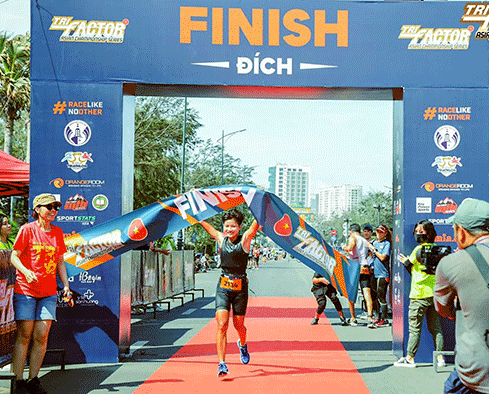 Nguyễn Thị Kim Cương wins the Tri Factor event in 2021, marking her first day with triathlon. — Photo MTB Series
Her outstanding performance was key to helping Cần Thơ win the team event where they faced the powerhouses of HCM City, which has the best triathletes of Việt Nam.
"I used to be a swimmer. I am now a cyclist. And running is an important part of my daily training. I feel I am really suitable for this new sport, and I seriously practise it now," said Cương who will represent Việt Nam in triathlon at the upcoming SEA Games.
"Cambodia does not organise my strong point of mountain biking. So I have decided to switch to triathlon. I know that Việt Nam is still far behind other countries, but I will try my best to be in the top three. I want to be the first Vietnamese to win a triathlon medal." VNS