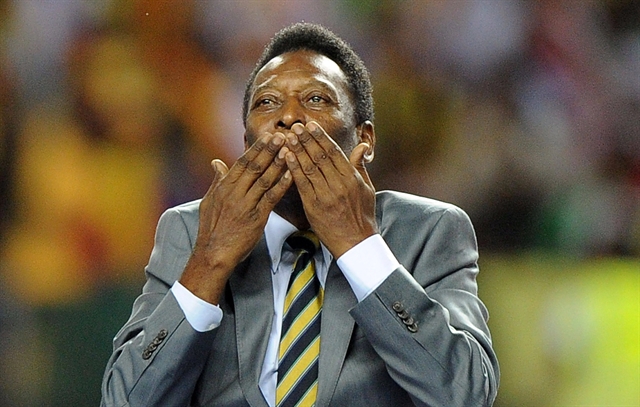 Brazil's Pele, widely regarded as the greatest football player of all time, died on Thursday at the age of 82. Photo: AFP
Brazilian football icon Pele, widely regarded as the greatest player of all time and a three-time World Cup winner who masterminded the "beautiful game," has died at the age of 82, his family said Thursday.
"Everything we are is thanks to you. We love you infinitely. Rest in peace," daughter Kely Nascimento wrote on Instagram.
Named athlete of the century by the International Olympic Committee in 1999, Pele is the only footballer in history to win three World Cups -- 1958, 1962 and 1970.
Nicknamed "O Rei" (The King), he scored more than 1,000 goals in one of the most storied careers in sport, before retiring in 1977.
He had been in increasingly fragile health, battling kidney problems and colon cancer -- undergoing surgery for the latter in September 2021, followed by chemotherapy.
The wake for late Brazilian football legend Pele will be held on Monday local time and his funeral on Tuesday in Santos, the southeastern city where he played most of his career, his former club said after his death.
"The wake for the greatest footballer of all time will be held in Urbano Caldeira Stadium, better known as the Vila Belmiro, where he enchanted the world," Santos football club said in a statement, adding that Pele would then get a funeral procession through the city's streets before a private burial ceremony.
FIFA said Pele was simply "immortal" after the Brazil legend's death, writing: "Pele: immortal -- forever with us" on its website.
"For everyone who loves the beautiful game, this is the day we never wanted to come. The day we lost Pele," FIFA President Gianni Infantino said in a statement.
"Today, we all mourn the loss of the physical presence of our dear Pele, but he achieved immortality a long time ago and therefore he will be with us for eternity."
Born October 23, 1940, in the southeastern city of Tres Coracoes, Edson Arantes do Nascimento -- Pele's real name -- grew up selling peanuts on the street to help his impoverished family get by.
His parents named him for famed American inventor Thomas Edison. But he was soon given the nickname Pele, for his mispronunciation of Bile, the name of a goalkeeper at Vasco de Sao Lourenco, where his footballer father once played.
Pele dazzled from the age of 15, when he started playing professionally with Santos. He led the club to a flurry of titles, including back-to-back Intercontinental Cups, against Benfica in 1962 and AC Milan in 1963.
Known for his genius with the ball, he epitomized the sublime style of play called "samba football" in Brazil, where he was declared a "national treasure."
He scored an all-time record 1,281 goals in 1,363 matches for Santos (1956-74), the Brazilian national team, and the New York Cosmos (1975-77).
But beyond his records, he will be remembered for revolutionszing the sport, his ever-present number 10 on his back. AFP