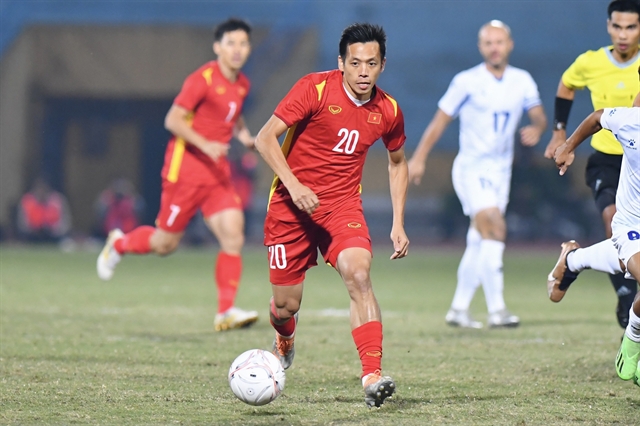 Striker Nguyễn Văn Quyết scored the only goal for Việt Nam in the international friendly match against the Philippines on Wednesday. Photo baohatinh.vn
Football
HÀ NỘI — Coach Park Hang-seo was pleased with the 1-0 victory over the Philippines in the international friendly match held in the Hàng Đẫy Stadium in Hà Nội on Wednesday.
Việt Nam did leave it late, with striker Nguyễn Văn Quyết scoring the only goal of the game on 92 minutes.
"I am very satisfied with the team's attacking line. We only have one week left for the AFF Cup 2022 and I need to make sure my players don't get injured," Park said after the match.
Ensuring the fitness of the players is very important to the South Korean coach as Việt Nam head into the cup competition as one of the favourites.
Striker Nguyễn Công Phượng, 27, is considering a move to Japan, an important step to help him gain more experience to develop his career.
Park said: "Phượng met me recently and told me for personal reasons, he could not attend the upcoming gathering for the regional football event. I agreed, I also discussed with the Việt Nam Football Federation (VFF). Phượng is a good player. I respect his decision."
Park will now work on finalising his squad of 23 players for the AFF Cup 2022.
Meanwhile, the Philippines coach of Josep Ferre was very impressed with the strength of the Vietnamese team.
"I would like to congratulate the Vietnamese team," he said.
"They had a good game. I wasn't too concerned about the last-minute goal. During 90 minutes of the match, we played well. The Vietnamese team have many good players, playing with a reasonable tacticical system. They did not show any weak points in this match.
"In the first half, Việt Nam attacked overwhelmingly. We tried to find space behind Vietnamese defence to exploit but failed. I told Park that I like his team. I think you can be proud of your national team right now. Personally, I think Việt Nam are the strongest team in Southeast Asia at the moment. But in football, you can't predict anything. I think that four teams Việt Nam, Thailand, Malaysia and Indonesia will compete for the AFF Cup 2022 title."
In other news, midfielder Nguyễn Quang Hải was back in Việt Nam after returning from France. His team Pau FC have agreed to let him join the national team for the AFF Cup. VNS