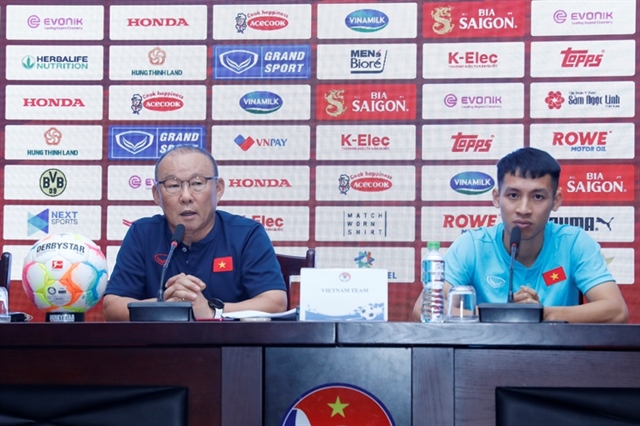 Việt Nam head coach Park Hang-seo (left) and captain Đỗ Hùng Dũng at a press briefing on November 29 in Hà Nội. Photos of Next Media
HÀ NỘI — Borussia Dortmund are a strong team but Việt Nam plans to put up a good fight in their friendly match today at Mỹ Đình Stadium, Việt Nam head coach Park Hang-seo told reporters at a press briefing on November 29 in Hà Nội.
"Playing Borussia Dortmund might be overwhelming to my players, but not because of our ability," said Park. "Dortmund players have been together on their Asia Tour while Việt Nam has practised with most members for only a day."
Park appreciated the visiting side but he also believed in his squad.
"We are the national team, which is a different level than clubs that Dortmund defeated in Singapore and Malaysia days ago. Why do we only think about losing to them? Prior to the match, we should not say anything negative. We can win, can't we?"
The South Korean tactician said Dortmund had quality players and the friendly would be a good test for Việt Nam prior to the AFF Cup. He believed that it would be a valuable experience for any player to have a chance to play this match, and that Việt Nam will provide a good game to supporters.
Attending the press briefing, captain Đỗ Hùng Dũng said: "We are excited and happy to play with a world class club. We normally watch them on TV, but now we can face them in person. This will be good for our AFF Cup preparation."
Dũng said he was impressed with some of Dortmund's key players but they were busy competing at the Qatar World Cup. However, there are other veteran players who have played in the Bundesliga for a long time. Việt Nam will play with 100 per cent focus to earn the best result.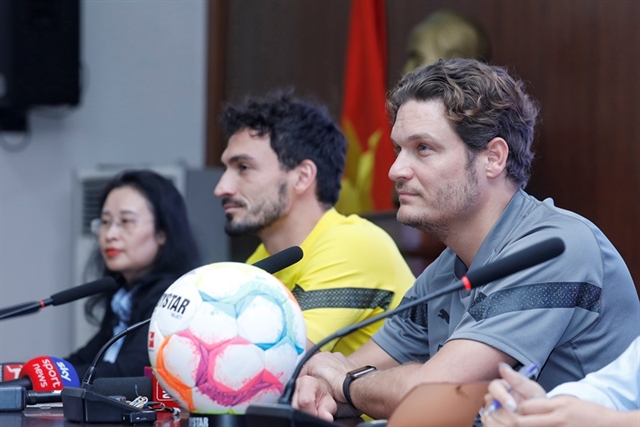 Coach Edin Terzic (right) and his defender Mats Hummels attend the press conference.
From the visitors' side, coach Edin Terzic praised Việt Nam and predicted a tough game for his club.
He has watched several matches of Việt Nam and knows that Việt Nam's coach works with both youth and senior teams. Players are good and confident, and have grabbed remarkable results.
He said it would not be an easy game for Dortmund. In football, surprises can happen any time as people just saw with Germany losing to Japan in the ongoing World Cup.
He hoped the friendly games with Dortmund will be a useful challenge to Việt Nam for the AFF Cup.
Terzic said he would field the strongest line-up in the coming match but unfortunately captain Marco Reus would not play because of injury, even though he travelled to Việt Nam.
Sharing with reporters, defender Mats Hummels said he was happy to see Vietnamese supporters' love for Dortmund. He hoped to see them come to the stadium and cheer the match.
Hummels said he respected all supporters and was pleased to take photos and give his autograph for them.
Hours after landing Việt Nam, Hummels and his teammates spent time visiting Hà Nội and enjoying local specialties.
Today, Dortmund players and their legends will meet with outstanding students of Vietnamese-German University in the morning. In the afternoon, they will have activities and deliver gifts to supporters at Mỹ Đình Stadium from 4:30pm.
Hours later, the friendly match will kick off and will be aired live on VTV2 channel. — VNS