Football
BVB players enjoy Vietnamese conical hats given when they arrived in Hà Nội. Photo of Next Media
HÀ NỘI — Borussia Dortmund landed in Việt Nam this morning and received a warm welcome with traditional Vietnamese conical hats at the Nội Bài International Airport.
The European club brought a delegation of 123 members to Hà Nội where as many as 100 supporters of the BVB Fan Club came to welcome their idols.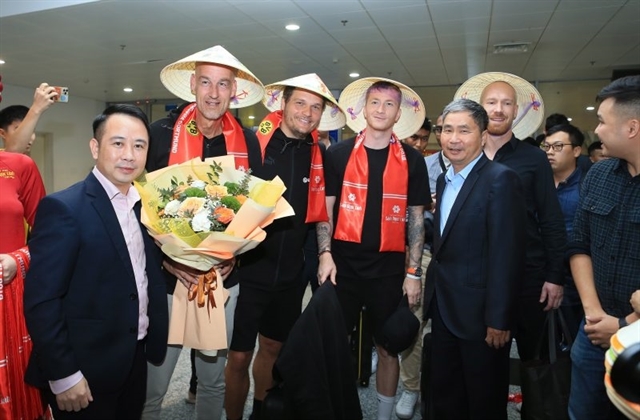 Next Media General Director Nguyễn Trung Kiên (left) and VFF General Secretary Dương Nghiệp Khôi welcome BVB players and officials.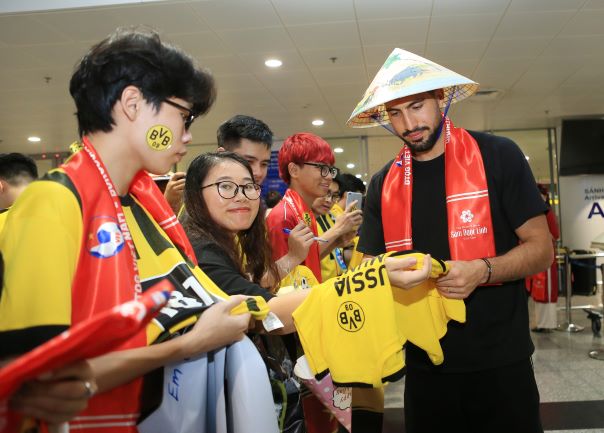 Emre Can signs a T-shirt for Vietnamese fans.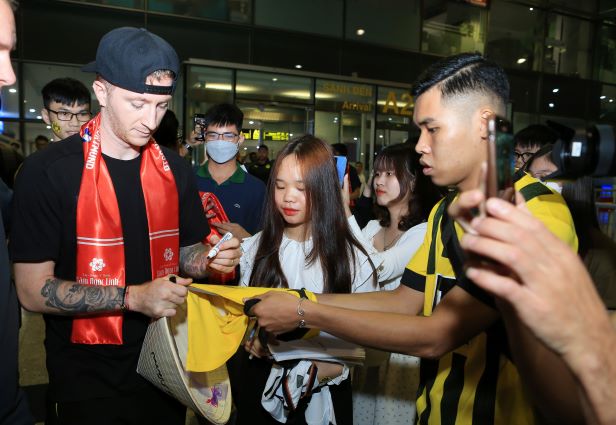 Marco Reus signs for fans who welcome him at the Nội Bài Airport.
"We know it is Nobby's anniversary today. He is a famous member of the club. So we want to celebrate with him. It is our way to show our love to him and BVB," said Hoàng Thu Quỳnh, administrator of the Việt Nam Borussia Dortmund fan club fanpage.
Dtan Chayada, chairman of the Thailand Borussia Dortmund fan club, also joined in the crowd.
"It is amazing to see our players here. It has been a long time waiting to meet them in person but because of the pandemic, we did not have a chance," Chayada said. "In 2019, I met them in Bangkok. Now, I am here and welcome them with my friends. It is really wonderful when we can join Vietnamese fans to greet them."
Players enjoy city tour on Vietnamese cyclo.
Emre Can plays football with local children.
Stars such as Marco Reus, Mats Hummels and Emre Can took part in a tour around the city, visited famous landmarks, met with local supporters and played football with children.
In the afternoon, they had an open training at Mỹ Đình Stadium.
Dorrtmund delegation visits Ngọc Sơn Temple on an islet in the middle of Hoàn Kiếm Lake.
BVB will play Việt Nam's national team at 7pm on November 30.
Prior to Việt Nam, BVB scored two goals in each half to thrash Malaysian treble winners Johor Darul Ta'zim 4-1 in an international club friendly at Sultan Ibrahim Stadium on November 28.
Earlier, the German club cruised to a 7-2 friendly win over Singapore Premier League club Lion City Sailors at Jalan Besar Stadium on November 24. VNS