Football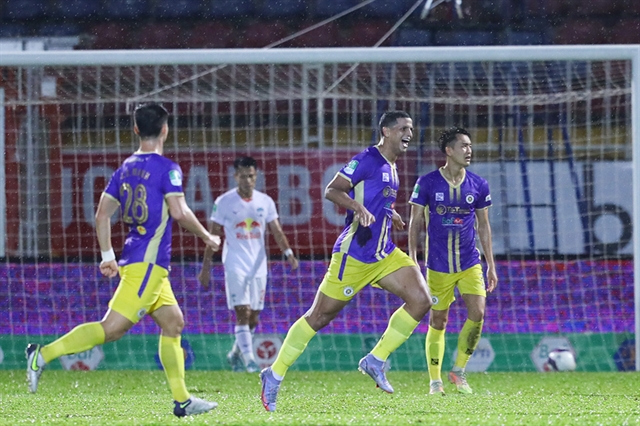 Goncalves Silva Lucas Vinicius (centre) celebrates his goal in Hà Nội's 2-0 win over Hoàng Anh Gia Lai in the National Cup semi-finals. Photo of VPF
HÀ NỘI - Hà Nội will defend its National Cup title in the finals against Topenland Bình Định on November 27 in Hà Nội.
Reigning Hà Nội defeated Hoàng Anh Gia Lai 2-0 in the first semi-final match on November 23 in the Central Highlands city of Pleiku.
Goncalves Silva Lucas Vinicius opened the scoring for the visiting side at the 37th minute. He completed his double with a close-range finish at the 59th minute.
It was the second meeting between the two sides within a week. On November 19, Hà Nội and Hoàng Anh Gia Lai drew 1-1 in the last round of the national premier league.
Hoàng Anh Gia Lai had a chance to narrow the score but defender Vũ Văn Thanh's penalty went wide at the 71st mark.
In the second semi-final, Bình Định trounced Thanh Hóa 4-0 on their home ground of Quy Nhơn Stadium.
Rafaelson Bezerra Fernandes made a hattrick with goals at the 15th, 45th and 63rd minutes. The other goal went to Hendrio Da Silva seven minutes to the end.
In the final, Hà Nội will hope for a more positive outcome playing at home as in their latest meeting in September, Bình Định won 3-0 at Hàng Đẫy.
While Hà Nội is targeting their third National Cup trophy, Bình Định hopes to end their 18-year title draught. The club's latest triumph was in 2004. VNS