National Sport Games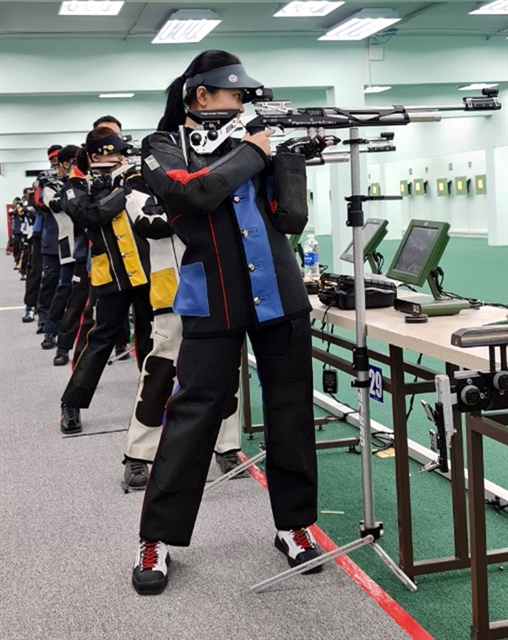 Nguyễn Thanh Thảo of Quảng Ninh wins the silver in the women's 10m air rifle individual event at the National Sport Games on November 23 in Hà Nội. — Photos baoquangninh.com.vn
HÀ NỘI — Quảng Ninh won one silver and one bronze at 2022 National Sport Games' shooting events on November 23 in Hà Nội.
Nguyễn Thanh Thảo came in second in the women's 10m air rifle individual event.
Thảo finished third in the qualification round to advance to the finals. In the last round, she shot for 246.6 points to take second place.
Lê Thị Mộng Tuyền of HCM City, who earned sixth position in the Asian championships earlier this month, took the gold with 248.6 points.
Trần Hoàng Gia Bảo of HCM City came in third with 226.7 points.
SEA Games silver medalist Phí Thanh Thảo of the Military team could not enter the top three although she was second in the qualifier.
Athletes compete in the men's 50 air pistol team event. The Quảng Ninh squad finished in third place.
Earlier, Quảng Ninh's trio Nguyễn Trọng Nam, Phạm Quốc Huy and Trần Xuân Tùng claimed a bronze in the men's 50 air pistol team event.
The Military won the title with 1,596 points, followed by Hải Dương with 1,585.
Medal winning athletes received bonuses in cash from Nguyễn Duy Long, deputy director of the provincial Sport Training and Competition Centre.
With one silver and one bronze, Quảng Ninh were in fourth place in the medals table.
HCM City and the Military shared the top with two golds, one silver and one bronze each.
The next positions went to the Public Security team with one gold, two silvers and one bronze and Hải Dương with one gold and one silver.
In the second day on November 24, athletes will compete in five events, including the men's individual 10m air rifle, men's 25m rapid fire pistol and men's and women's traps.
About 260 competitors from 13 cities and provinces are competing for 50 sets of medals.
Quảng Ninh send 13 marksmen under coach Phạm Nguyễn Thanh Tùng to the shooting competition, which is one of eight sports held prior to the Games' opening ceremony next month. It will end on November 29. — VNS