Football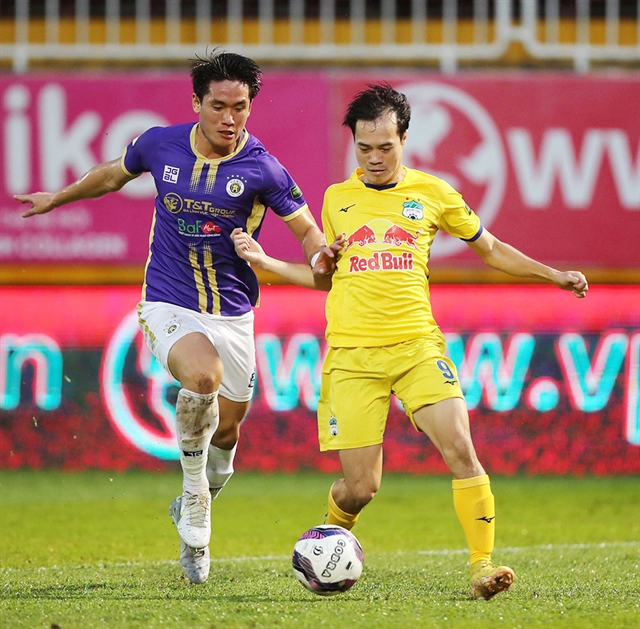 Hoàng Anh Gia Lai striker Nguyễn Văn Toàn (right) runs the ball away from Hà Nội defender Huỳnh Tấn Sinh during their V.League 1 match on November 19 in Pleiku. The two teams will meet again in the National Cup semi-final on November 23. Photos courtesy of VPF
HÀ NỘI — As Hoàng Anh Gia Lai and Hà Nội prepare to meet for the second time in almost as many days, both sides know that big changes lay just over the horizon for their respective clubs.
Prior to their upcoming National Cup semi-final clash on November 23 in Pleiku City, Hà Nội announced they would not extend their contract with South Korean coach Chun Jae-ho, the first foreigner to win the national championship with the team.
A close source of the champions revealed that the two sides could not agree on a deal.
Chun will have two matches left with Hà Nội if they get past Hoàng Anh Gia Lai.
Chun took charge of Hà Nội in February when former coach Park Choong-kyun resigned out of the blue.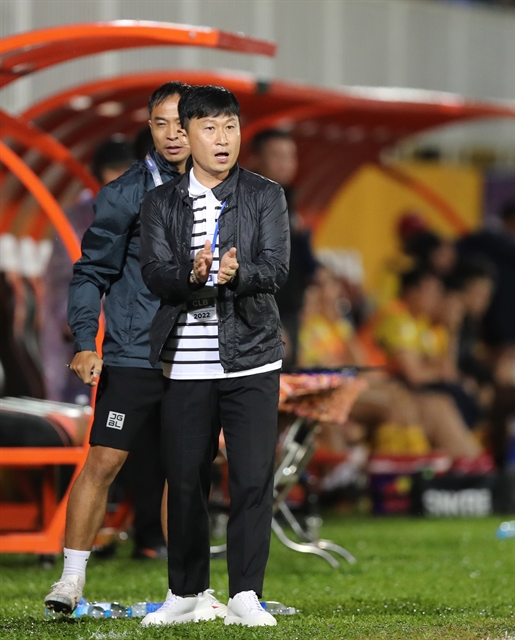 South Korean coach Chun Jae-ho will leave Hà Nội at the end of this season.
His ability was doubted as he had not managed a Vietnamese club before. However, he led the team to the top of the table for a record sixth time.
He was the first foreigner to coach Hà Nội to V.League 1 glory and the third ever after Thai Arjhan Srong-ngamsub of Hoàng Anh Gia Lai in 2003 and 2004, and Portuguese Henrique Calisto of Đồng Tâm Long An in 2005 and 2006.
Hà Nội have not yet announced their new coach, but they are in contact with different agents to find AFC Champions League experience.
In the National Cup, Hà Nội are the reigning champions, and Chun has named a squad that he hopes will get them through to the final.
"I am glad my knee injury is getting better faster than expected. After about ten days rest, I am back to training," said captain Nguyễn Văn Quyết.
"Hope that I can be on the field for the semi-final match. But, I will wait for a decision from the head coach," he said.
On the host side, coach Kiatisak Senamuang's contract will also come to an end later this year.
There is no information about the new deal, but the Thai 'Zico' will leave Pleiku in the next few days to visit his family before making a final decision.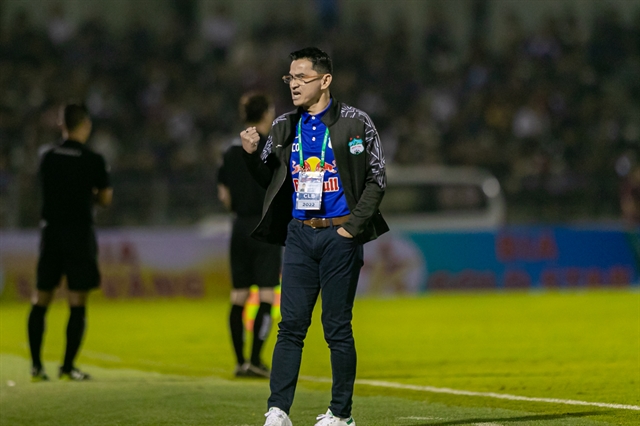 Coach Kiatisak Senamuang of Hoàng Anh Gia Lai has not decided on his future yet. His contract will come to an end later this year.
Hoàng Anh Gia Lai set a target of winning V.League 1 this season. After a brilliant start though, they didn't win in 10 games and only finished sixth.
The National Cup might be the last title the team can snatch before their first home-grown generation separates.
Hoàng Anh Gia Lai's contract with their first batch of players, including national favourites Nguyễn Công Phượng, Lương Xuân Trường, Nguyễn Văn Toàn, Nguyễn Tuấn Anh and Vũ Văn Thanh, will end later this year.
Playing together since they were small boys, they have experienced sweet and bitter memories with each other, but both a national title and the National Cup have eluded them.
While midfielders Tuấn Anh and Trần Minh Vương have signed a new three-year contract with the club, the rest are undecided.
Top striker Toàn is said to be courting interest from three V.League 1 teams who are offering record-breaking deals to sign him.
Since 2015, Toàn has played 165 games and scored 46 goals. In the 2022 season, he netted seven times.
Nguyễn Tấn Anh, a representative of Hoàng Anh Gia Lai, said his boss Đoàn Nguyên Đức would not try to keep players at any cost.
In the semi-finals, the former champions wanted to play all the best against Hà Nội. Although their rivals were V.League 1 champions, they hope that home advantage and determination will be enough. VNS