Athletics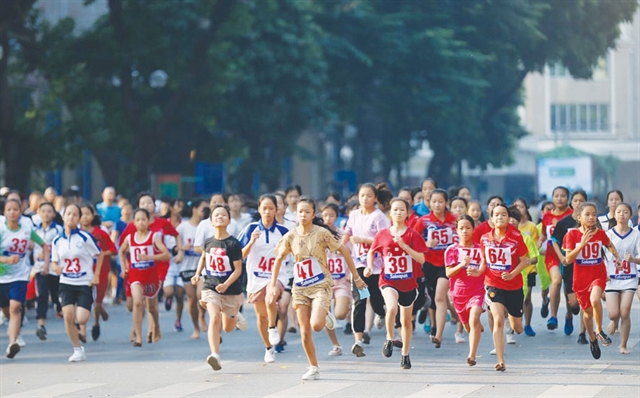 Athletes run at the 2019 Hànộimới Newspaper Run for the Peace. The race will be back in the city on Sunday after two years of absence. Photo hanoimoi.com.vn
HÀ NỘI — More than 1,500 athletes will compete in the 47th Hà Nội Mới (New Hà Nội) Newspaper Run for Peace, which is back after two years of absence.
The October 2 tournament's final will be held around Hoàn Kiếm Lake as usual, with a range of categories for both professional and amateur runners from both Việt Nam and abroad.
"The Hà Nội Mới Newspaper Run for Peace was not organised because of the pandemic in the last two years, but for its comeback, it lured more than 170,000 people in the qualification rounds in April," said Nguyễn Thành Lợi, deputy editor-in-chief of Hà Nội Mới.
"The final will feature 1,500 athletes, the fastest from the municipal schools, companies, organisations, embassies, and especially pro athletes from cities and provinces," he said.
"After many years, our run has become a prestigious competition, promoting sport to improve people's health and spreading the message of 'Hà Nội, a City for Peace'."
Athletes will compete in the 1.75km (one lap around the lake), 3.5km (two laps) and 5.25km (three laps) categories for both amateur men and women; and women's 5.25km and men's 8.75km (five laps) for pros.
Organisers will deliver a total of VNĐ70 million (US$3,000) for the top five-ranking finishers of each category and the three best teams.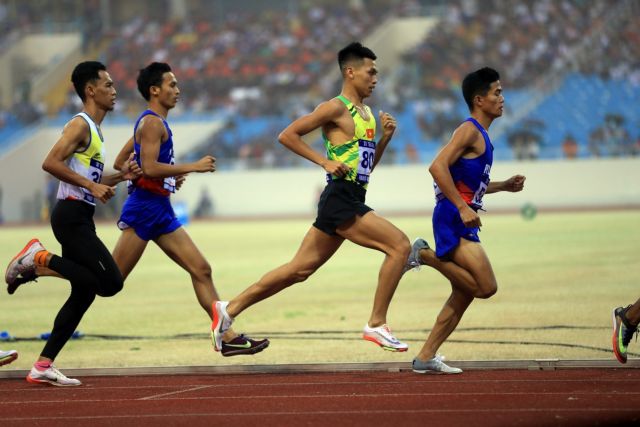 SEA Games silver medallist Trần Văn Đảng (second, right) is one of many national team athletes who will run at the 47th Hànộimới Newspaper Run for Peace. VNA/VNS Photo
Among elite athletes on Sunday are 31st SEA Games champion Khuất Phương Anh (Hà Nội) and SEA Games silver medallist Trần Văn Đảng (Hà Nội) who are the reigning national champions; multi-time SEA Games winner Dương Văn Thái (Nam Định); and 30th SEA Games silver medallist Nguyễn Trung Cường (Hà Tĩnh).
"I have participated in the tournament several times and won a bronze in 2017," Đảng told Việt Nam News.
"I am not a road runner, so comparing my results in the stadium and on the road is difficult. But I will try my best to take the top podium this year," said Đảng, who finished second at the Techcombank Hà Nội Marathon's 10km class on September 25 in Hà Nội.
According to organisers, about 150 foreigners living and working in the city will compete in the tournament this year. In addition, for the first time, people from the US embassy will participate in this annual event.
The Run for Peace will start at 7am and will be live on VTV2. VNS