Speed Skating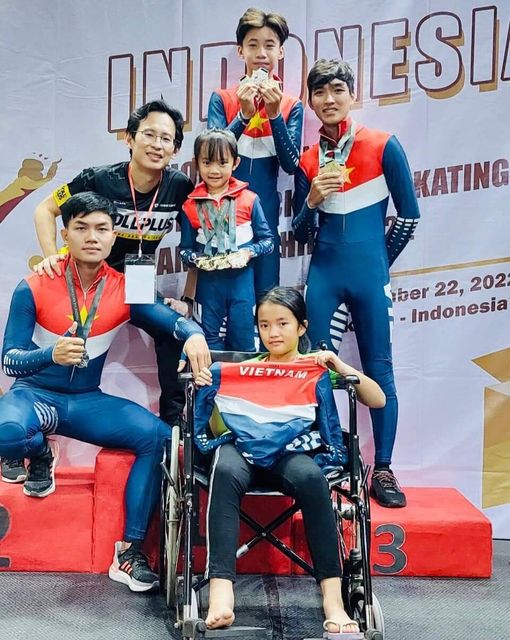 The Vietnamese team poses for photos after the end of the Indonesian National Speed Skating Championship which closed on September 22. Việt Nam won five golds, four silvers and two bronzes. — Photo of VSF
HÀ NỘI — Việt Nam won five gold medals after being invited to compete at the Indonesian National Speed Skating Championship, which closed on September 22.
Giang Bảo Anh was the most successful athlete, winning a hattrick of titles in the women's F Group's 222m, 333m and 500m categories.
Nguyễn Phi Long secured a gold in the men's junior Group C 500m class and two silvers in the 1000m and 1500m tracks.
Lê Hữu Dũng pocketed his title in the men's senior 1500m and two bronzes in the 500m and 1000m.
Another medalist of Việt Nam was Nguyễn Võ Hữu Vinh with two silvers in the men's senior 1000m and 1500m.
Giang Bảo Trang, who was expected to be in top three in three classes in the women's junior Group E, unexpectedly suffered a leg injury during her training prior to the competition. She was sidelined.
In addition to their medals, athletes also collected points for the next Winter Olympics. With a gold, they bagged 34 points, and 21 and 13 for silver and bronze, respectively.
The Indonesian championship was the first ever international tournament that a Vietnamese delegation took part in.
According to Trịnh Thị Trang, general secretary of the Việt Nam Skating Federation (VSF), Indonesia invited athletes from other countries to its championship to improve the quality of the tournament and also to give all competitors chances to sharpen their skills.
Việt Nam sent five athletes to Indonesia. It was their first event abroad and their result was much better than expected, she said. — VNS