Football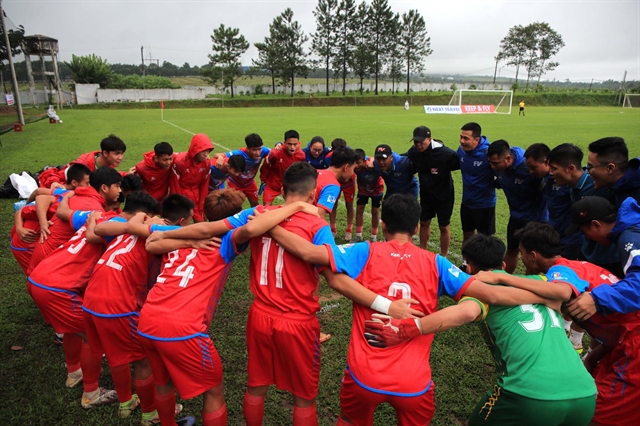 Young players at PVF Football Academy during training. PVF is working with ACA Football Partners and VTVcab to bring young Vietnamese talents to European training environments in October. — Photo of VPF
HÀ NỘI — For the first time, young Vietnamese talents will enjoy long-term professional training in Europe to improve the nation's football quality.
The ACA Football Partners (ACAFP), the Promotion Fund for Vietnamese Football Talent (PVF Football Academy) and Việt Nam Cable Television (VTVcab) on September 22 signed a cooperation deal in Hà Nội.
Under the deal, PFV and ACAFP take charge of selecting players, including 15-17 years olds. Those chosen will have the chance to go to Belgium to gain experience.
ACAFP and VTVcab will work on producing and broadcasting a documentary series entitled 'Rising Star' about the whole process of selecting athletes, their training and competing activities, and their daily life while in Europe.
The young Vietnamese talents will train to pursue their dreams at Deinze Football Club NV (KMSK Deinze), a Belgian second-division team owned by ACAFP.
The reality show's first episode is scheduled to be aired in Việt Nam in mid-October.
"I have always been impressed by the football fever in Việt Nam. From my experience working for ten years in the Southeast Asia market, I get the impression that the enthusiasm towards football in Việt Nam is huge," said Hiroyuki Ono, CEO of ACAFP.
The CEO believes that the European advanced training programme would uncover Vietnamese players' potential, help them reach their best and bring them back to contribute to national football development.
"We believe in this power, ACA Football Partners is excited to work with PVF to release its true value and provide the opportunity for young talented players to take their chance in Belgium. And I would be happy if I could help unleash its potential and possibilities on a global level.
"I would like to thank everyone involved in this project, including the programme sponsor Phát Đạt Corporation. Since the partnership between PVF and KMSK Deinze was announced in July, the project has steadily progressed.
"Now, I am very happy to be able to collaborate with VTVcab this time. By working with VTVcab, we will be able to deliver realistic programmes that follow the challenges of promising players to Việt Nam's domestic and global football fans," he said.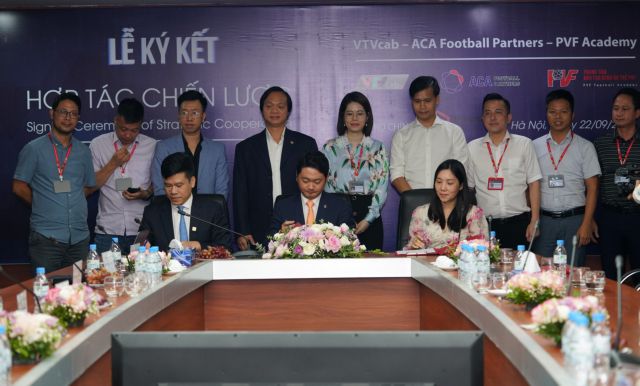 (From left) VTVcab CEO Bùi Huy Năm, ACAFP CEO Hiroyuki Ono and PVF Deputy-General Director Nguyến Thị Mỹ Dung sign their cooperation contract in Hà Nội on September 22. — Photo of VTVcab
"It is our mission to provide an environment where players can train in a country with a better football level, such as Belgium, where KSMK Deinze is located, and where they can gain experience abroad in terms of living. By communicating this to as many people as possible, we hope to promote investment in training and encourage future athletes and their families," said Nguyễn Thị Mỹ Dung, PVF deputy general director.
Meanwhile, VTVcab CEO Bùi Huy Năm said he was honoured to be able to participate in this programme. VTVcab recognised it as meaningful and unique content. Through this programme, promising young Vietnamese players will gain experience at a professional level in Europe and be more competitive.
"I think that experience will lead to the future discovery and development of young players. I look forward to receiving feedback from home and abroad after the broadcast. The players who have been selected will have good results. I wish all the best for the future and the success of the companies we have collaborated with," he said.
PVF is one of the top-level football academies in Việt Nam. Based in Hưng Yên Province and founded in 2008, it is awarded AFC's 3-star Elite Youth Academy and is among the three highest-ranked Elite Youth Academies in Asia.
ACAFP is a Singapore-based football business that plans to create multi-club ownership from Asia. In addition, distinguished football industry experts in Europe have joined the team as founding members supporting ACAFP's mission to "Release the value of Sports & Evolve".
VTVcab is a content production and distribution company and a leading pay-TV service in Việt Nam. VTVcab holds diverse content and produces 25 channels. Their programmes are broadcast on different television platforms, apps and social networks. — VNS