Athletics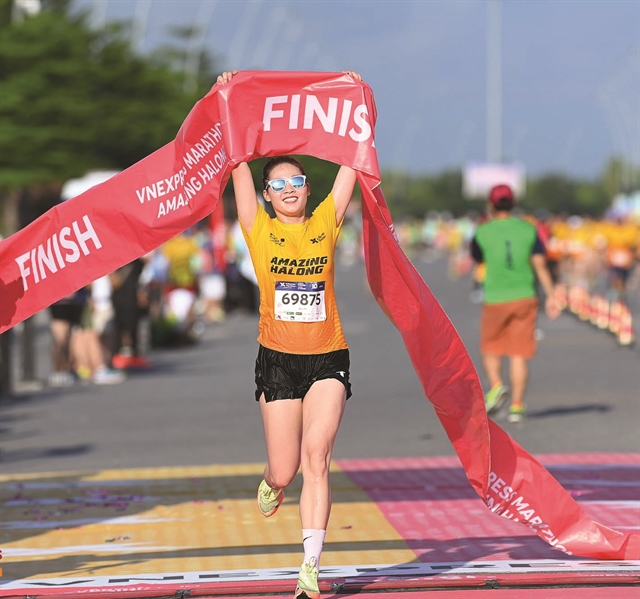 Đinh Thị Bích finishes first at the VnExpress Marathon Amazing Hạ Long 2022 in July. She promises to return stronger after the unexpected defeat at the previous SEA Games. Photo of VnExpress Marathon
Thanh Hà
Đinh Thị Bích looked confident on the track. She had prepared well and was ready to defend her 800m title at the 31st SEA Games.
She started strongly and remained in the leading group at Hà Nội's Mỹ Đình Stadium. Under the support of home fans, teammates and coaches, Bích, in third place about a hundred metres to the finish, was about to make a final sprint to make her dream come true.
However, a clash with Malaysian runner Joginder Singh destroyed everything. Bích fell and ended up finishing in last place.
Months after the unexpected accident, Bích has recovered from the injury and has been training hard to prepare for the coming tournaments, including the National Sports Games in November and the 32nd SEA Games in Cambodia next May.
Hidden talent
Coach Nguyễn Thị Thanh Xuân recognised Bích's athletic ability at school competitions in Nam Định Province.
Xuân picked the girl for the provincial team in 2010 when she was just 13. After two months of trials, Bích officially joined the training programme to be a pro athlete. Two years later, she was a member of the national youth team in Hà Nội.
"I did not think I could follow athletics in the first months. But after years of hard work and effort, it has become my passion," Bích said. "More importantly, the sport is for me; it suits me. So I decided to stick with a running career."
Like other sportspeople, Bích has experienced many challenges, including when she was sent back to Nam Định because of an inflammation of the lymph nodes in the abdomen.
"I had pain regularly, which strongly affected my training, so I returned home for treatment. It was a hard time for me," Bích said.
The defeat dropped to desperation, and she wanted to quit.
"When I was feeling hopeless, my family, friends, teammates and coaches talked to me. They encouraged and lifted me up. Although I came back, I did not believe in myself. I thought I could not reach my best again," she said.
Staying near family and training without pressure, Bích gradually gained her form, and she won medals at the 2018 National Sports Games, 2019 National Athletics Championship and the HCM City Open tournament.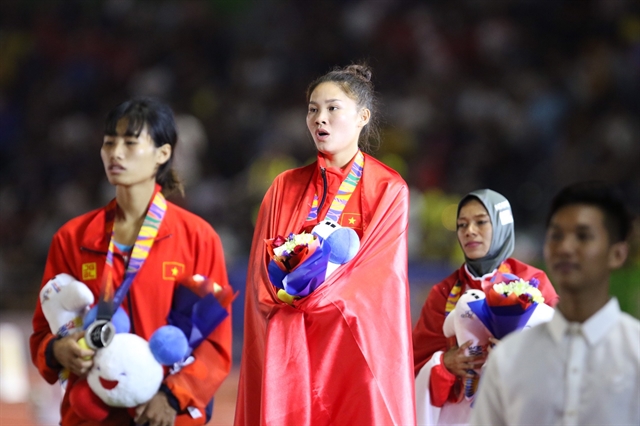 Đinh Thị Bích wins a gold medal in the 800m event in her first-time participating in the regional SEA Games in 2019. Photo thanhnien.vn
This achievement gave her a berth in the national team to compete in the 30th SEA Games in late 2019 in the Philippines.
In her first regional sports meet, Bích, who said her talent was revealed the latest among all her teammates, was expected to learn as much as she could and, if possible, try to be in the top three.
But the 22-year-old did an amazing job and bagged gold. The champion burst into tears at the finish line as she could not believe what was happening.
She overcame all title favourites, including teammate and national champion Khuất Phương Anh, to take the top podium after her incredible run in the 800m event in 2:07.16 at the New Clark City Stadium.
"I was nervous but happy and proud with the title in my first SEA Games. People might think I was lucky to win this gold medal, but I don't care. I will prove my capacity. Good results will answer everything," Bích said.
"My gold was a strong push for me in my career, and a present to my coach Xuân who trained me, taught me, and raised me as her disciple and daughter. I fought for me and for her too. I would not waste more than 10 years we spent together."
Praising his athlete, national team coach Vũ Ngọc Lợi said: "It was an impressive result for a SEA Games debut, especially as she nearly withdrew because of serious sickness."
A promise to return
After falling and suffering a leg injury at the 31st SEA Games in May in Hà Nội., Bích stood up and walked to the finish line before being sent to the hospital for medical checks.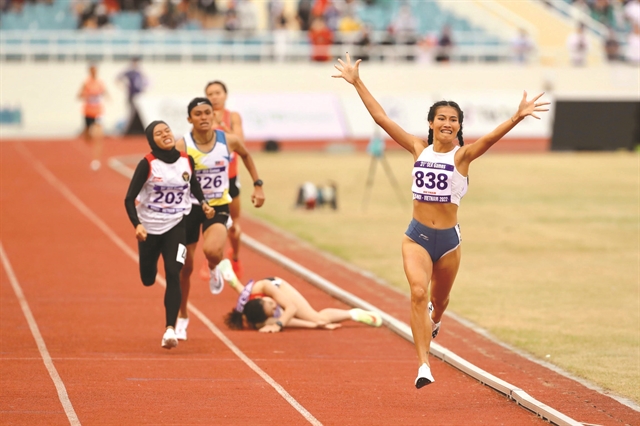 Đinh Thị Bích falls down while running to defend her 800m title at the 31st SEA Games in May in Hà Nội. VNA/VNS Photo
The referees said Malaysian Singh did not intend to make Bích fall; it was an accident.
Bích has left her sorrow behind to focus on new missions.
"It is a sport that sees wins and losses. I have learnt a lot from this failure, a big lesson and a shock to me," she said.
"I want to apologise for my loss and thank everybody for being on my side when I was hurt. My family and coach were my strong support. I am okay now. And I will be back stronger."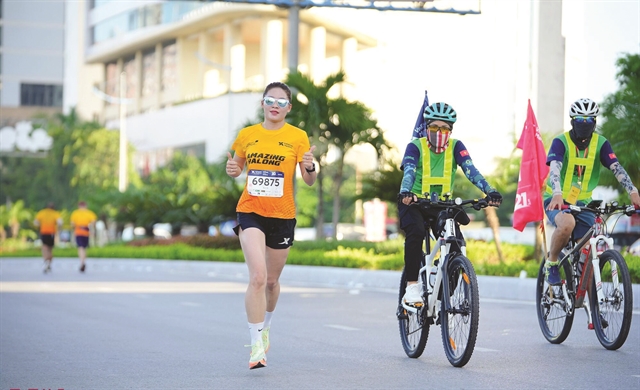 Đinh Thị Bích runs to win a title at the VnExpress Marathon Amazing Hạ Long 2022 in July. Her first competition since the SEA Games accident is one of the activities warming up for other tournaments later this year. Photo of VnExpress Marathon
Bích warmed up for her season two months after the fall, winning a gold medal at the VnExpress Marathon Amazing Hạ Long 2022's 10km category in July.
The former SEA Games champion will shoulder heavy duty to win golds for the Nam Định Team in the individual and team events for the 800m categories at the National Sports Games in November in Quảng Ninh.
She expects to make the national team for the Cambodian SEA Games next May, where she plans to take her place on the podium back.
"It is hard to talk about results in sport. I just hope to be healthy and strong to follow athletics and maintain my faith and passion for further achievement," Bích said.
"In my more than a decade with athletics, I have found that nobody can pursue this 'job' without passion. Effort and determination are keys to success." VNS