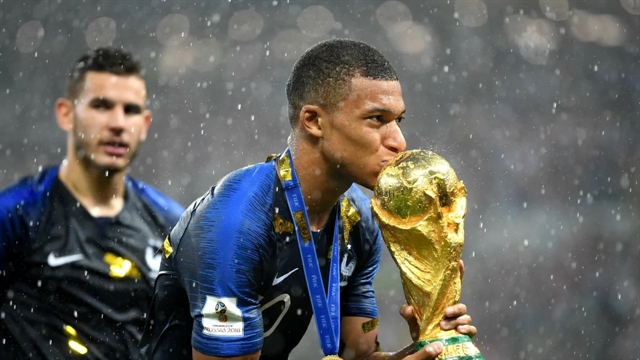 Kylian Mbappé helped France win the World Cup in 2018. AFP Photo
Paul Kennedy
I know this is hard to believe, but in less than 60 days, the opening match of the 2022 World Cup kicks off with hosts Qatar playing Ecuador.
It's not that I'm not looking forward to this global football spectacle, seeing the world's best playing in the biggest international football tournament is obviously a brilliant thing, but I don't feel the same buzz as I have from previous World Cups.
That's all to do with timing. Playing it in November due to extreme heat in the Middle East, has, in my opinion, put a dampener on the whole tournament.
I accept there was little other choice once the decision was made in 2010. It's hot enough in November in Qatar, never mind the summer.
Lots has already been said and written about the pros and cons of playing the tournament in Qatar, but love the venue or hate the venue, the fact of the matter is that it's happening, and happening soon.
The break in the domestic season to allow players to represent their countries is something that's never been seen before and I wonder will there be any longer-term repercussions, particularly in the Premier League.
Following the death of Queen Elizabeth II, football matches were rightly postponed, but that does mean come the end of the season, there will be a bit of catching up to do.
Throw into the mix is the near six-week break scheduled to allow not only the World Cup to take place, but also time for international teams to prepare, and it's going to be one jam-packed 2023.
This month's 13 domestic and European postponements mean Arsenal, Manchester City, Chelsea, Liverpool and Manchester United will head into the second half of the campaign two Premier matches behind schedule and facing the possibility of playing 42 matches between Boxing Day and the end of the season.
It seems some common sense has prevailed with the announcement that those teams playing in European competitions may have the option of scrapping replays in the FA Cup, and instead settling ties on the day.
This is all new ground for the Premier League, and other leagues around the world, but the fact of the matter is we've made our bed, and we just have to lie on it.
The World Cup is happening, very, very soon. It's actually 58 days from today the first ball will be kicked.
So we have to embrace it, and realise that despite the fact it's being played at an unusual time of year, it's still an amazing feast of football.
As to who will win it? My money is on Brazil or France. Let's wait and see. VNS