Mixed martial arts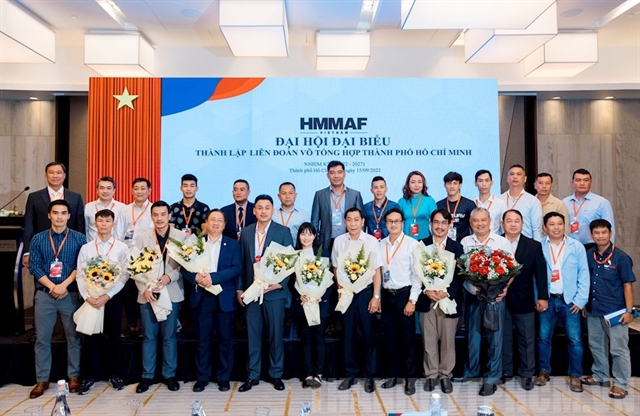 President Lưu Tú Bảo (first row, fifth from left) and his HMMAF members are introduced to public. Tú takes charge of lifting the development of MMA in HCM City and contribute the best athletes to the national team. Photo of HMMAF
HCM CITY - Lưu Tú Bảo has been voted President of the HCM City Mixed Martial Arts Federation - HMMAF - for the period of 2022-27 during a congress to establish the federation.
Bảo, director of Saigon Sport Club, will be supported by General Secretary Nguyễn Hoài Nam and a federation of 15 members.
The city federation's congress on September 15 received prestigious guests such as Chatri Sityodtong, chairman and CEO of Singapore-based billion-dollar combat sports promotion ONE Championship; Viwat Sakulrat, managing director at Tiger Muay Thai which produces world UFC champions Valentina Shevchenko and Alexander Volkanovski; and Việt Nam's WBA Asia champions Trương Đình Hoàng and Lê Hữu Toàn.
Speaking after taking his role, Bảo said, "It is an honour and responsibility that the federation and its members put on my hands. I promise to try my best, together with the support of all people, to push the development of the city's mixed martial arts movement."
Bảo, who believes that martial arts are a part of life, is determined to set up a strong foundation for the growth of MMA in the city and the country. Athletes will have chances to compete abroad.
The establishment of the federation is expected to attract more people to practise and compete in martial arts, either to improve health or for entertainment. Officials will also discover new talents for the national teams. VNS