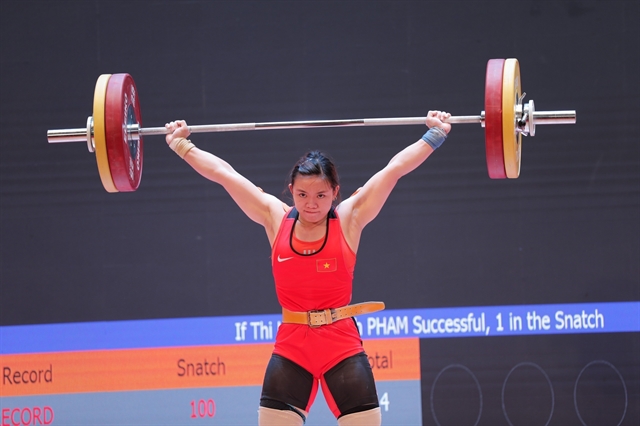 Phạm Thi Hồng Thanh performs in the 31st SEA Games' women's 64kg class in May in Hà Nội. Thanh won gold and set three new records. VNA/VNS Photo
Thanh Hà
Phạm Thị Hồng Thanh performed a stunning solo effort at the 2022 National Weightlifting Clubs Championships. She met no difficulty to top the podium in the women's 71kg category, winning all three gold medals.
Thanh was successful with a lift of 96kg in the snatch, the highest result among competitors. Meanwhile, a lift of 113 kilograms in the clean and jerk in the first attempt was enough for her to win gold. A total of 209kg helped Thanh to complete a hat trick at the competition.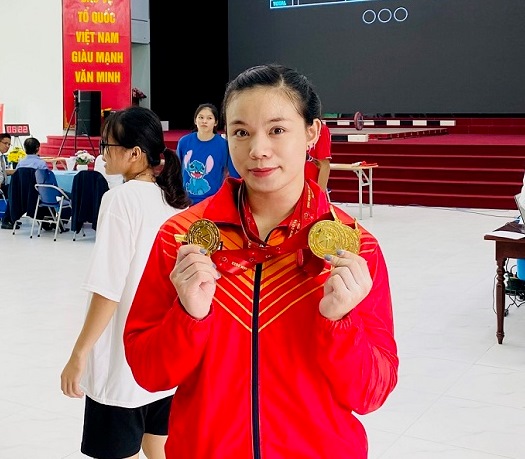 Phạm Thi Hồng Thanh poses with her golds grabbed from the National Weightlifting Clubs Championship in Hà Nội on August 25. Photo sggp.org.vn
Her rivals, despite the hard effort, could not reach her level. The 23-year-old has been undefeatable locally and has set her eyes on domination in the region for the next four years.
She is seeking a worthy rival at her third SEA Games, which is slated in Cambodia next May.
Turning point
Thanh was on a 2013 summer holiday to Nghệ An Province, where she visited her relatives. The 14-year-old from Hải Dương Province was suggested to participate in a swimming club to improve her health. However, coaches at the provincial Sports Training Centre were impressed with her arm muscles, which had developed better than any student her age.
"It is my fate. I came to learn to swim, but I had not even touched the water when I became a weightlifting trainee," said Thanh, who was always a winner at arm wrestling against her classmates.
"In the first days, l was panicked seeing my seniors lifting and dropping the barbells that made horribly big sounds all day. I also suffered whole-body pain that made me tired and scared. Everything exceeded my imagination," she said.
"But when I was exhausted, I turned on the TV and watched athletes lifting. I told myself they could do it, so I could too. It was how I pushed myself to go along with this sport until today," she said.
Thanh won one gold, one silver and one bronze in her first national championship in 2015, but now has three golds.
Thanh initially wanted to quit for further academic study. But she kept practising and has never regretted her decision.
Road to victory
Thanh became a national team member in 2018 and represented Việt Nam at the 30th SEA Games in the Philippines in 2019 when women's weightlifting returned to the regional sports meet after four years.
Although it was her first international tournament, Thanh was really confident.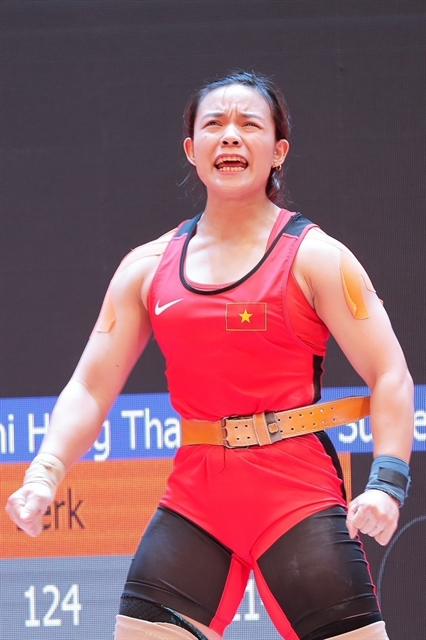 Phạm Thi Hồng Thanh was the most impressive weightlifter for Việt Nam in the last two SEA Games. VNA/VNS Photo
After the first attempt, Thanh and host athlete Ando Elreen Ann were the two candidates for a gold medal in the women's 64kg class.
After the snatch event, Ann took first place with 98kg life while Thanh was second on 90kg.
Ann continued to lead in the clean and jerk as she lifted 115kg in her last attempt.
Her total of 213kg was 17kg more than Thanh, the last athlete to compete.
To beat Ann, Thanh had to lift 124kg, which she had never done before.
"I was a little nervous but determined to do the impossible. The pressure on me was converted into a strong push. Coaches encouraged me, so I lifted 123kg at home. I just needed a little more power to lift 1kg heavier than that, meaning a gold medal," said Thanh.
"I was like being possessed. I thought of nothing, just stepped on the stage and lifted it. I felt it was even lighter than the 123kg barbell at home."
Thanh's impossible victory proved she could overcome her limits, marking a big milestone in her career.
In the 31st SEA Games in Hà Nội four months ago, Thanh successfully defended her title and set up three new records: 104kg in the snatch, 126kg in the clean and jerk, and 230kg in total.
"I had a back injury during practising for the Games. This affected my performance, and it was not my personal best yet," Thanh said.
"But I was really happy with the gold and the record on home turf. I satisfied all coaches' and fans' expectations."
After SEA Games, Phạm Thi Hồng Thanh sets her eyes on Asian tournaments and hopes to win a berth in the coming Olympics. VNA/VNS Photo.
Thanh said victories in 2019 and 2022 were different.
"The first one was when I was fresh and young. The second one was when I was a senior, more experienced, confident and determined. They are all my life memories. Sometimes, looking back on those moments, I still feel happy," she said.
"My success at SEA Games showed my efforts and gave me worthy results. I will continue to work hard to train every day and hope to one day enjoy a continental victory and have a chance to compete at the Olympics." VNS