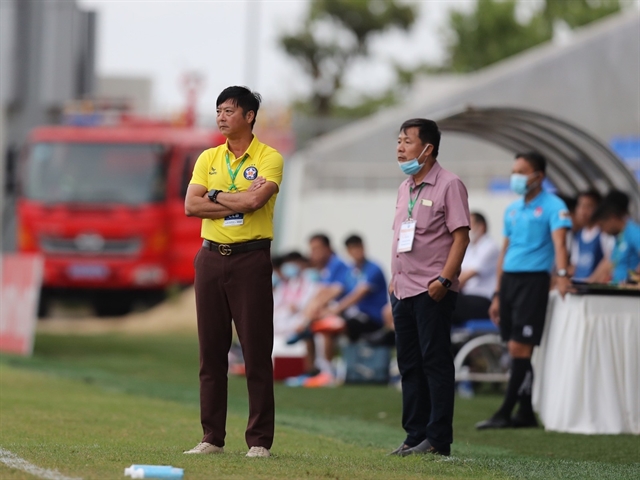 Newly-appointed technical director Lê Huỳnh Đức (left) is expected to help Sài Gòn FC stay at the V.League 1. Photo thethaovietnamplus.vn
Football
HCM CITY — Newly-appointed technical director Lê Huỳnh Đức is expected to help Sài Gòn FC stay in the V.League 1 this season.
Đức will support coach Phùng Thanh Phương. Sài Gòn FC are in 11th place out of 13 teams with seven points after nine matches.
Đức is a fan-favourite in HCM City. The former striker scored 60 times for the now defunct Hồ Chí Minh Police Football Team. In 2001, he made Vietnamese footballing history by becoming the first Vietnamese player to play abroad when he joined Chongqing Lifan, a Chinese Super League side.
Đức returned to Việt Nam in 2002, signing with East Asian Bank Football Club on a two-year deal. He won the Vietnamese Golden Ball award in 1995, 1997 and 2002. In 2004, he made his final move to SHB Đà Nẵng, where he stayed until his promotion to manager in 2008.
In 2009, he became both the youngest coach to win the V.League 1's "Best Coach of the Month" award and the first coach to win the award in three consecutive months. His coaching style is best known for its toughness and discipline, which is credited with helping SHB Đà Nẵng emerge as champions in both the national premiere league and the Vietnamese National Cup in 2009.
The 50-year-old coach also helped Đà Nẵng win the national top flight once more in 2012, and to finish as runner-ups in 2013 and in third place in 2016.
Considering the uphill battle coach Phương faces between now and the end of the season, Đức's appearance should provide some immediate relief, if his record is anything to go by.
Đức needed just one season to help Đà Nẵng win the league. Sài Gòn FC are only two points off Bình Dương Club in 10th place.
Sài Gòn's situation is not difficult, but without reform, the team are in danger.
Fans in HCM City are excited about the return of a footballing legend in the southern city. However, Sài Gòn FC are only the second team Đức has coached for. Many will be waiting with bated breath to see how the former Vietnamese striker shows his talent. VNS