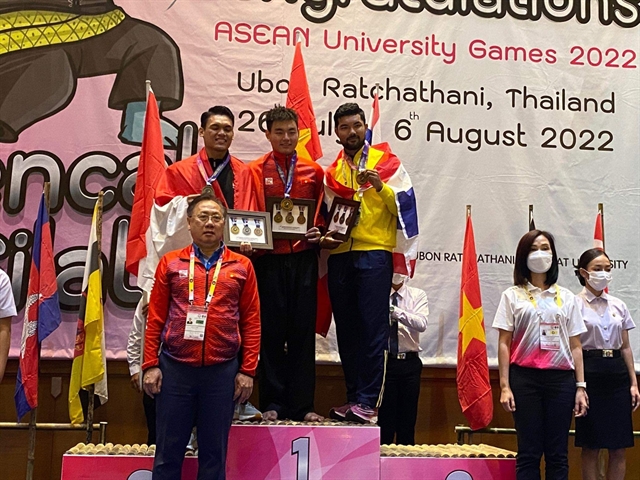 Ong Gia Phong of Việt Nam (centre) poses for photos after winning his gold in the men's U90kg class in pencak silat. Photos aug20th2022
HÀ NỘI — Vietnamese students won two gold medals in pencak silat at the 20th ASEAN University Games in Ubon Ratchathani, Thailand, on August 4.
Ong Gia Phong of Việt Nam beat Fauzi Ahmad Zein of Indonesia 3-2 in the final of the men's U90kg category.
His teammate Nguyễn Thanh Phong defeated Saena Afikin of Thailand 3-2 in the men's U50kg class.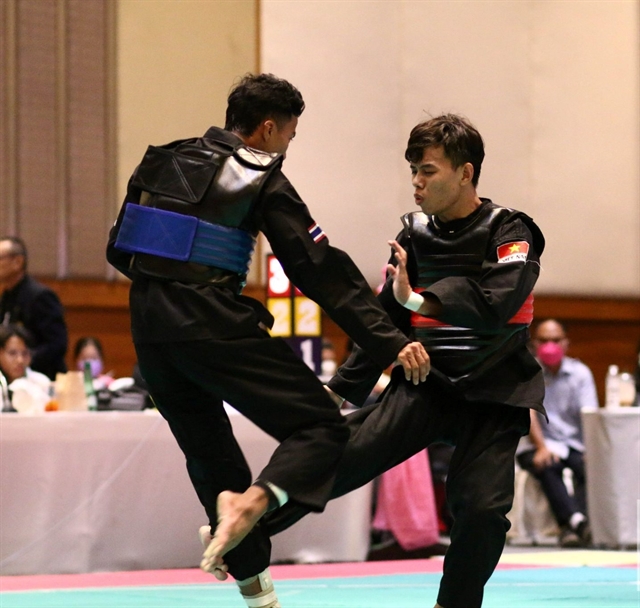 Nguyễn Thanh Phong of Việt Nam (right) fights to win gold in the men's U50kg category in pencak silat.
Other fighters taking medals were Nguyễn Thị Hoài Duyên with a silver in the women's U50kg; Trịnh Huy Khang with a bronze in the men's U85kg and Nguyễn Tấn Định in the men's U95kg.
In Muay Thai, Lý Diệu Phước of Việt Nam pocketed a silver in the men's U48kg. He was defeated 30-27 by Thai Chaaumphan Surakiart.
Earlier, Võ Công Anh Kiệt earned a bronze in the men's U63.5kg and Nguyễn Đình Minh Khuê bagged a bronze in the men's U51kg.
Việt Nam will vie for gold medal in the women's team e-sport event against Thailand today.
After 10 days of competition, Việt Nam remain at No 4 in the medal tally with 12 golds.
Thailand are well ahead in leading position with 92 golds. Malaysia are second on 46 and Indonesia third with 40.
The Games will close on August 6. VNS