Volleyball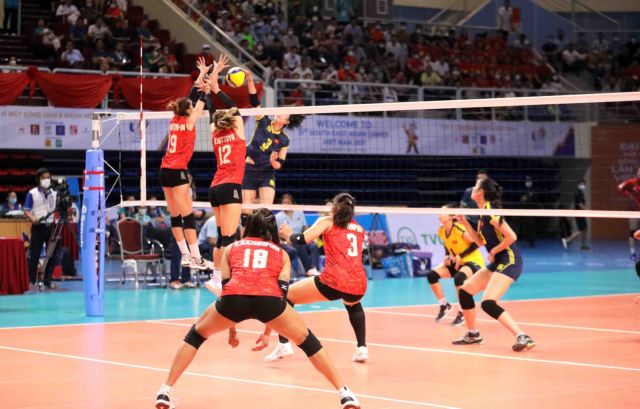 Việt Nam (in red) compete at the 31st SEA Games in May in Hà Nội. The team will take part in the Asian Women's Volleyball Cup in the Philippines next month. VNA/VNS Photo
HÀ NỘI — Việt Nam will compete in the 2022 Asian Women's Volleyball Cup, also known as the 2022 AVC Cup for Women, on August 21-28 in the Philippines.
Việt Nam are in Group A with defending champions China, South Korea, Iran and the hosts.
While the latter two are on the same level as Việt Nam, China and South Korea will be huge challenges for the 31st SEA Games runners-up.
Việt Nam defeated the Philippines 3-0 in the group round at the regional sport meet in May after winning 3-1 over Iran at the World Volleyball Championship's qualification.
China is a world-leading team. They have won the World Cup trophy four times, in 1981, 1985, 2003 and 2015. They topped the world championship in 1982 and 1985 and dominated the Olympics in 1984, 2004 and 2016.
South Korea was one of the leading squads in the world in the 1970s, 1990s and 2010s, having won the bronze medal at the 1976 Montreal Olympics; and placing fourth at the 1972 Munich Olympics, the 2012 London Olympics and the 2020 Tokyo Olympics.
These two powerhouses just competed in the recent Nations League 2022. China finished sixth while South Korea ranked 16th.
Coach Nguyễn Tuấn Kiệt and his women have to finish in the top two in their group to advance to the semi-finals.
To make the job that little bit harder, the squad are without some of their best athletes, including opposites Nguyễn Thị Bích Tuyền and Đặng Kim Thanh, middle-blocker Đinh Thị Trà Giang, and libero Nguyễn Khánh Đang. These players are either injured or are out for personal reasons.
Việt Nam this will be Việt Nam's sixth Cup appearance. Their best result was fourth place in 2012.
In their last appearance in 2018, the team finished fifth.
"It is a pity that some good players can't join us in this campaign. In addition, we just competed in the SEA Games and the national championship. Players have not had enough time to relax and recover. So I think, if they could play with 80 per cent of their ability it will be okay," said coach Kiệt.
"I hope that our coming training camp in Thailand will be useful for us and we would deliver the highest performance at the coming tournament," he said. VNS