Hoàng wins two more swimming golds
Vietnamese swimmer Nguyễn Huy Hoàng dominated the pool on May 19 as he bagged two more gold medals.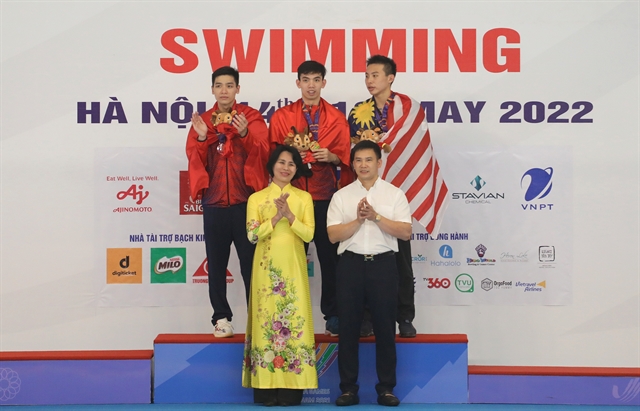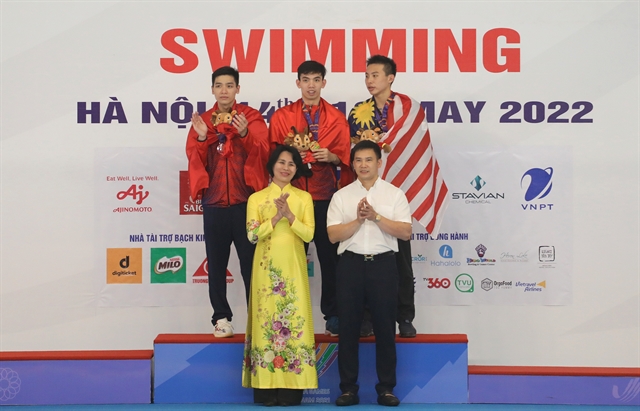 Thanh Nga
HÀ NỘI — Vietnamese swimmer Nguyễn Huy Hoàng dominated the pool on May 19 as he bagged two more gold medals.
In the final of the men's 800m freestyle, Hoàng had no difficulty finishing first to take the gold after clocking 07:57.65. Then, he won another in the men's 200m butterfly.
In the 800m freestyle Hoàng left runner-up Nguyễn Hữu Kim Sơn behind, who finished with a time of 08:04.23. The bronze medal went to Hoe Yean Khiew of Malaysia with a time of 08:06.71.
In the Asian Games in 2018, Hoàng also won a bronze medal in this category.
In the men's 200m butterfly event, Hoàng faced fierce competition from Thai swimmer Wongcharoen Navaphat. However, the golden boy of Việt Nam just pipped him to the post, beating him by just 0.12 seconds with a time of 01:58.81.
The SEA Games 31 has been a very successful tournament for Hoàng. He has won a total of five gold medals, including four individual ones. At the SEA Games 30 in 2019, he only brought home one gold medal, in the men's 1,500m freestyle.
Earlier, Hoàng took gold medals in the 1,500m freestyle and 400m freestyle.
With his brilliant performance, Hoàng helped the Vietnamese swimming team to reach a total of 11 gold medals, far exceeding the target of four to five gold medals.
So far, Hoàng is the best Vietnamese athlete at the SEA Games 31 with five gold medals.
In the men's 50m freestyle, Tzen Wei of Singapore took gold and broke the SEA Games record of 22.25secs with his new time of 21.93secs.
With a time of 22.24secs, Jonathan Eu Jin Tan of Singapore won silver, while the bronze medal went to Việt Nam's Jeremie Loic Nino Lương with a time of 22.85secs.
Meanwhile, En Yi Letitia Sim of Singapore dominated in the women's 100m breaststroke after clocking a time of 01:08.79.
Jinq En Phee of Malaysia won silver and Christie May Mun Ee Chue of Singapore claimed bronze.
Fans were also treated to the final of the women's 100m butterfly at the Aquatic Sports Palace in Mỹ Đình National Sports Complex in Hà Nội.
Singaporean Jing Wen Quah surpassed her teammate Ting Wen Quah and Jasmine Alkhaldi Paler of the Philippines to take gold.
In the women's 4 x 200m freestyle relay category, the Singapore team took the gold while the Thai and Indonesian teams took silver and bronze, respectively.
Source: VNN
Maybe You Also Interesting :
» Noi Bai airport jam-packed with summer travelers
» Hanoi woman silent after video captures man harassing her
» Noi Bai airport overcome by summer travel hordes