Việt Nam arrive in Singapore to defend AFF Cup title
Reigning champions Việt Nam arrived in Singapore yesterday (December 1) to defend their ASEAN Football Federation (AFF) Cup title.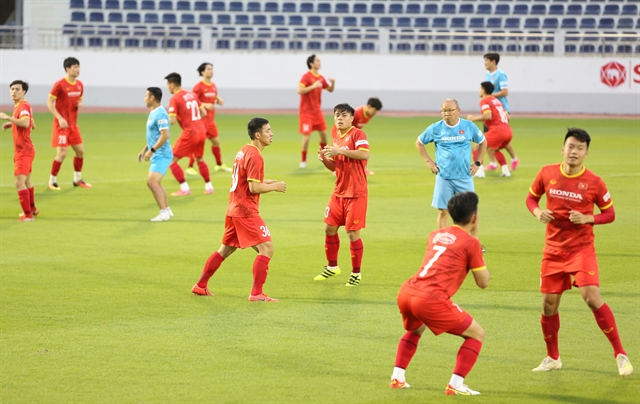 Football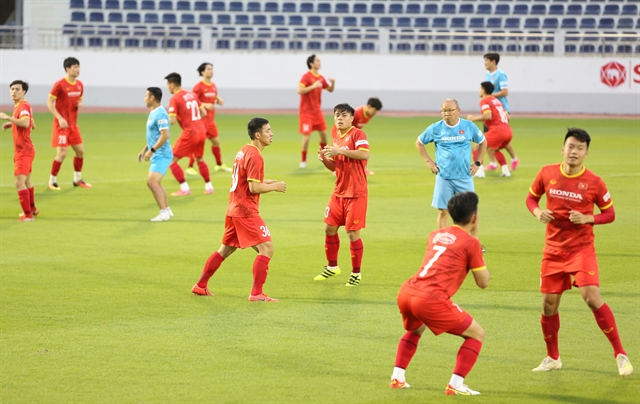 HÀ NỘI Reigning champions Việt Nam arrived in Singapore yesterday to defend their ASEAN Football Federation (AFF) Cup title.
Coach Park Hang-seo named a squad of 30 -- four goalkeepers, 12 defenders, nine midfielders and five strikers -- for the tournament.
Most of them are familiar names in the national team side, such as skipper Quế Ngọc Hải, defenders Bùi Tiến Dũng and Đỗ Duy Mạnh, midfielders Nguyễn Quang Hải and Lương Xuân Trường and strikers Nguyễn Công Phượng and Hà Đức Chinh.
The South Korean coach also named a few new faces for the tournament in Singapore. Rising star Nguyễn Hoàng Đức, who was the best of Vietnamese team in recent World Cup qualifying matches; young defender Nguyễn Thanh Bình and 19-year-old goalkeeper Quan Văn Chuẩn.
Midfielders Nguyễn Tuấn Anh and Trần Minh Vương are in a unique position on the team. Although they have been a part of the national squad for years, this is their first opportunity to compete in the AFF Cup. Anh and Vương both missed all previous cups because of injuries in the run-up to the tournament.
A total of 15 players from the side that tasted glory three years ago will try to emulate regional glory.
Park will name his matchday 23 before the start of the tournament.
Prior to departing for Singapore, ESPN and Indonesian newspaper Bola pointed out Việt Nam's most dangerous players.
Striker Nguyễn Tiến Linh is picked by ESPN who believe he could be pivotal to the team's success.
They reported that: "All eyes will be on Nguyễn Quang Hải -- the 2018 MVP -- as Việt Nam look to defend their AFF crown, and understandably so. But since that triumph, another has emerged as an increasingly influential player for coach Park Hang-seo.
"For all Việt Nam's defensive stability and invention in midfield, Nguyễn Tiến Linh -- standing at 1.83m -- offers a focal point in attack and has a keen eye of goal, having already scored seven goals in Việt Nam's ongoing World Cup qualifying campaign."
Linh has had some remarkable performances in 2021. He scored six goals for Becamex Bình Dương at the V.League 1 and netted five in the 2022 World Cup qualifications.
Linh is one of 10 players that ESPN mentions in their AFF Cup article. Others are Chanathip Songkrasin (Thailand), Ikhsan Fandi (Singapore), Maung Maung Lwin (Myanmar), Stephan Schrock (Philippines), Rufino Gama (East Timor), Chrerng Polroth (Cambodia), Safawi Rasid (Malaysia), Soukaphone Vongchiengkham (Laos), and Evan Dimas (Indonesia).
Indonesian publication Bola believes that forward Phượng is a player to watch for the Indonesian defence.
They believe that Việt Nam will be the most difficult team in Group B. Among Vietnamese players, Phượng has the potential to create nightmares for the Indonesian squad.
The 26-year-old played outstandingly in the previous Cup. The "Vietnamese Messi" has played for different clubs abroad including Sint-Truidnese FC of Belgium.
The regional competition includes 10 teams, divided into two groups. Việt Nam are in Group B with runners-up Malaysia, Indonesia, Cambodia and Laos.
Group A has Thailand, Myanmar, the Philippines, Singapore and East Timor.
The opening match of the tournament will be on December 5. Việt Nam kick off their title defence against Laos on December 6.
The top two teams from each group will advance to the semi-finals, which will be played over two legs.
The final will be on December 19. VNS
Source: VNN
Maybe You Also Interesting :
» Samsung pulls Singapore drag queen ad after backlash
» PC-COVID app now allows users to self-updated vaccination status
» HCM City transport department seeks to raise funds for Ring Road No.3 construction