Sports & Entertainment
Việt Nam took a bronze medal from the Russian Solidarity Games, which ended in Kaza City on August 3.
Việt Nam crushed Myanmar 4-1 in the semi-final of the AFF U18 Women's Championship on Tuesday.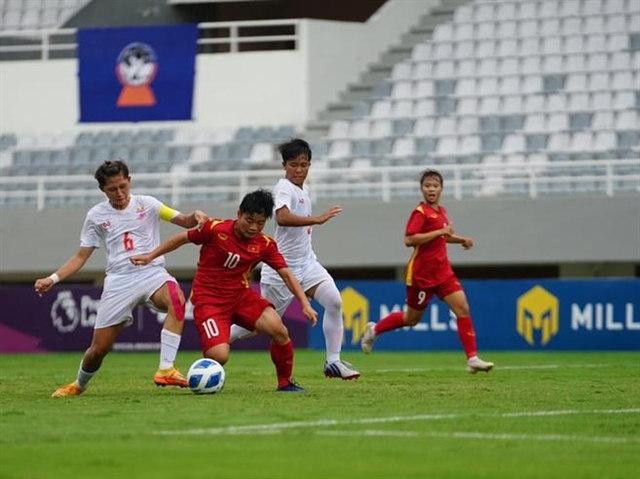 Vietnamese swimmers earned five more gold medals at the ongoing ASEAN Para Games 2022 in Indonesia on Tuesday.
Filmmaker Nguyễn Phan Linh Đan's first independent project Tấm Ván Phóng Dao (If Wood Could Cry, It Woud Cry Blood) is one of ten film projects selected by La Fabrique Cinéma to gain access international producers and filmmakers at Cannes.
Young actors of the Sân Khấu Tài Năng (Talent Stage) Club made their debut with a series of performances in HCM City last weekend.
Vietnam did better than expected at 2022 World Pencak Silat Championship in Malaysia with six gold medals.
Foreign films are sweeping the box office while Vietnamese films are doing badly, with most of them losing money.
Vietnam got back on the winning track after defeating Chile 3-1 in the fourth round of the women's group of 2022 Chess Olympiad on Monday.
Hoàng Dư Ý is the sole Vietnamese representative at the World Athletics U20 Championship, which is organised in Santiago de Cali, Colombia, from August 1-6.
Aquaman Vietnam has launched a logo representing the energetic spirit and modern sporting style of the biathlon tournament.
The Asian Football Confederation (AFC) has announced the route that the cream of the continent will have to plot if they are to qualify for the 2026 FIFA World Cup.
Around 203 entries from 86 radio and television stations nationwide will compete for awards at the 15th National Radio Festival held in HCM City on August 4-6.
Tags:
Page 5 of 438