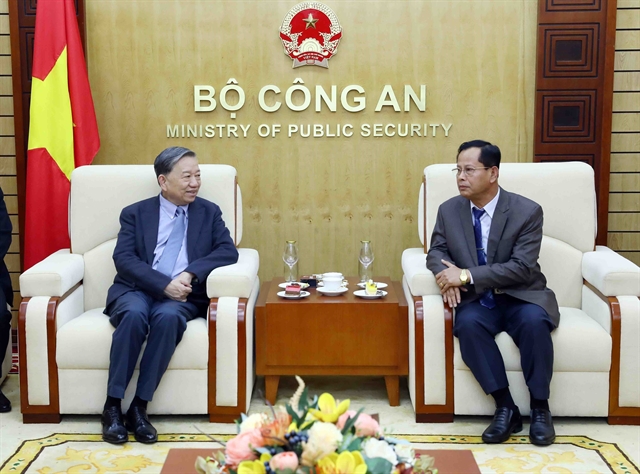 Vietnamese Minister of Public Security Gen. Tô Lâm and Lao Deputy Minister of Public Security Sen. Lieut. Gen Kongthong Phongvichit have talks on Friday in Hà Nội. — VNA/VNS Photo Phạm Kiên
HÀ NỘI — Vietnamese Minister of Public Security General Tô Lâm hosted a reception in Hà Nội on Friday for Lao Deputy Minister of Public Security Sen. Lieut. Gen Kongthong Phongvichit.
Earlier, Phongvichit co-chaired the 13th Việt Nam-Laos security cooperation conference in the central city of Đà Nẵng earlier this week.
Minister Lâm hailed the successful organisation of the conference with the signing of the minutes that covered new cooperation areas such as fighting cybercrime, wrongful and distorted allegations on social media, and State management on foreign non-governmental organisations that violate national security of the two countries.
Việt Nam has consistently maintained a special friendship with Laos, and stays ready to help Laos overcome current difficulties, continue with socio-economic development, diversify and multilateralise foreign relations to improve its position and role within ASEAN, he said, adding that Việt Nam is willing to help Laos ensure its security and order during its ASEAN Chairmanship Year 2024.
Lâm stressed that the Vietnamese Ministry of Public Security wants to work with the Lao counterpart to maintain independence, self-reliance, political stability and relationships with other countries; prevent external forces from taking advantage of one country to harm the security and stability of the other as well as ties between the two nations.
He wished that Laos will help Việt Nam address issues related to strategic interests.
The host asked the two countries' public security forces to maintain their traditional and close relations on the basis of high political trust and mutual respect.
The minister believed that they will fulfil tasks assigned by the two ministries on the back of great bilateral friendship and special solidarity.
Phongvichit, for his part, wished that both sides would maintain regular meetings between public security forces in localities sharing the border.
He vowed to consistently prevent hostile and reactionary forces from taking advantage of one country to undermine the political stability and social security and order of the other, as well as harm the bilateral relationship. — VNS