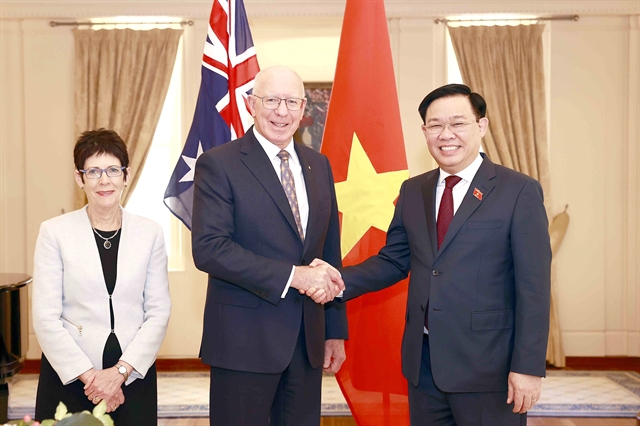 Vietnamese National Assembly Vương Đình Huệ had meeting with
Governor-General of Australia David Hurley and his spouse on November 30, 2022, as part of his trip to Australia. — VNA/VNS Photo Doãn Tấn
HÀ NỘI — The political and national defence-security relations between Việt Nam and Australia have seen marked qualitative improvements over the past five years, a diplomat has said.
The two sides have shared viewpoints and stances on many issues, both bilateral and multilateral, Vietnamese Ambassador to Australia Nguyễn Tất Thành noted in an interview granted to the Vietnam News Agency (VNA) on the occasion of the 5th anniversary of the bilateral strategic partnership (March 15, 2018).
They have maintained meetings and delegation exchanges, even amid the COVID-19 pandemic, held online or on the sidelines of international conferences, according to the ambassador.
In 2022 alone, the two sides coordinated in organising visits to Australia by National Assembly Chairman Vương Đình Huệ and chief of the Party Central Committee's Commission for Internal Affairs Phan Đình Trạc, and the visit to Việt Nam by Deputy Prime Minister and Defence Minister Richard Marles, he added.
Multilaterally, Australia has supported Việt Nam's membership at the United Nations Human Rights Council for 2023-2025, and the UNESCO's Intergovernmental Committee for the Safeguarding of Intangible Cultural Heritage for the 2022-2026 term.
The countries are the co-chairs of the Organisation for Economic Cooperation and Development (OECD)-run Southeast Asia Regional Programme (SEARP) for 2022-2025.
Thành said the bilateral cooperation in national defence and security has been promoted through strategic dialogues, highlighting Australia's English-language training courses for Vietnamese military personnel and the country's help in transporting servicemen and medical equipment of Việt Nam's field hospital to South Sudan for UN peacekeeping operations, among other activities.
The two countries have also cooperated fruitfully in crime combat, immigration management and illegal migration prevention, he continued.
Bilateral trade has posted spectacular growth, he said, adding that it increased 20 per cent annually in the 2018-2022 period, reaching a record US$15.7 billion last year, making Australia the seventh biggest trade partner of Việt Nam, and Việt Nam the 10th largest trade partner of Australia for the first time.
Australia has maintained its annual development assistance to Việt Nam at more than AUD80 million ($53.49 million), even AUD92.8 million in the 2022-2023 fiscal year.
It has paid attention to the work and holiday visa programme and is about to materialise the bilateral memorandum of understanding under the Australian Agriculture Visa Programme.
Most noteworthy, Australia has donated 26.4 million doses of COVID-19 vaccines to Việt Nam, ranking second among vaccine donors to the Southeast Asian nation.
The ambassador also highlighted partnerships in education and science-technology with a range of programmes, contributing to easing poverty, improving people's living standards and women's capacity, and bringing added values, especially in emerging, essential technologies.
Việt Nam believes that the bilateral relations will experience more intensive and substantive developments, the ambassador said, expressing his hope that the newly-established social organisations like the Australia-Việt Nam Policy Institute and the Việt Nam-Sydney centre will play a role in raising understanding between peoples, businesses and scholars of the two countries.
Regarding the action programme implementing the strategic partnership for 2020-2023, Thành said it has been rolled out well in all three pillars of economic engagement, strategic and defence - security cooperation, and knowledge and innovation partnerships over the past two years.
The only shortcoming lies with the fact that the two countries have yet to bring into full play opportunities and fully implement commitments in the Enhanced Economic Engagement Strategy (EEES) released on December 21, 2021, he said, suggesting the two sides organise the exchange of delegations of businesses and localities in a larger scale, and put in place the ASEAN-Australia-New Zealand Free Trade Area (AANZFTA) agreement after its upgrade, and new-generation free trade agreements.
According to the diplomat, fruitful economic ties have created a foundation for political relations to grow further, and good political cooperation will contribute to expanding and deepening the bilateral trade and investment links.
Việt Nam wishes that Australia will step up its support and cooperation to help the Southeast Asian nation gain success in digital transformation and green transition, towards a knowledge-based economy and sustainable development, the ambassador stressed.
Therefore, Việt Nam has suggested substantive and effective cooperation with the country in clean energy, green economy, digital transformation, high-quality agriculture and climate change response, he said, noting that the two sides have ample room to boost collaboration in these fields. — VNS