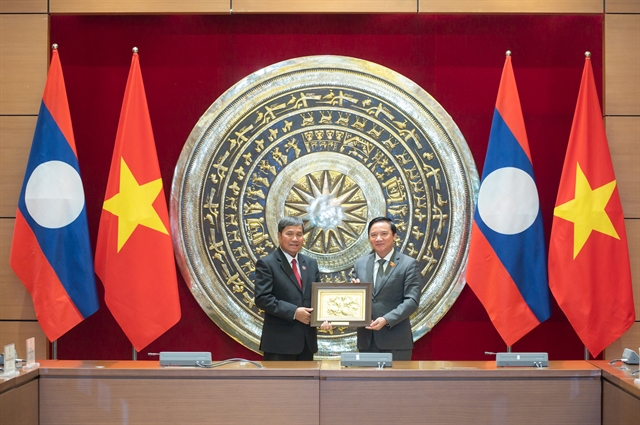 Vice Chairman of the National Assembly of Việt Nam Nguyễn Khắc Định and Lao counterpart Khambay Damlath exchange souvenirs after their official talks on Tuesday in Hà Nội. — Photo from the National Assembly of Việt Nam
HÀ NỘI — Vice Chairman of Việt Nam's National Assembly (NA) Nguyễn Khắc Định and Lao counterpart Khambay Damlath emphasised the need to consolidate the already flourishing bilateral ties during official talks on Tuesday in Hà Nội.
The Lao official said the visit aims to realise the outcomes of the visit of the Chair of the Vietnamese NA in May 2022 and the Memorandum of Understanding on cooperation between the two countries' parliaments while strengthening the special solidarity and comprehensive cooperation between the two Parties, States, and peoples.
Khambay Damlath lauded the achievements of Việt Nam under the leadership of Party General Secretary Nguyễn Phú Trọng, especially in the containment of the COVID-19 pandemic, firm socio-economic recovery, and elevating Việt Nam's profile in the international arena.
He also welcomed the fruitful cooperation between Vietnamese and Laos NAs at regional and international parliamentary forums.
Vice Chair Khambay Damlath sincerely thanked and deeply appreciated the support of the Vietnamese Government and people, especially the NA, for their help in the construction of the new Lao NA House and their support in COVID-19 prevention and control efforts.
Announcing the first Cambodia-Laos-Việt Nam National Assembly Summit in Vientiane in 2023, the Lao official hoped that the Vietnamese NA would provide assistance and share experiences to help Laos fulfil its mission.
Vice Chair of Vietnamese NA Định praised the frequent exchanges and thematic conferences and direct meetings between different committees of the two parliaments that have furthered cooperation ties and mutual trust.
Định expressed his belief that Laos will continue to reap new victories in nation-building on the firm foundation of the achievements made in the last four decades of renovation.
Việt Nam always prioritises bettering relations with Laos and always sides with Laos in its nation-building efforts, Định remarked.
The two countries' parliaments should strengthen the exchange of experiences in formulating policies and laws in macro-management and socio-economic recovery and enhance people-to-people exchanges and cooperation between localities, especially between local delegations of the NA and people's councils of localities.
The NAs of the two countries also need to strengthen the education of people of all classes, especially the young generations of the two countries, about the traditional, special relations between Việt Nam and Laos, as well as bolster cooperation between the Friendship Parliamentary Groups of the NAs of the two countries.
Định said he agreed and highly appreciated the opinions of the Lao NA delegation, especially on major orientations for cooperation relations between the two countries and the two NAs in the future.
The close cooperation between the two NAs will strengthen the great friendship, special solidarity and comprehensive cooperation between Việt Nam and Laos. — VNS