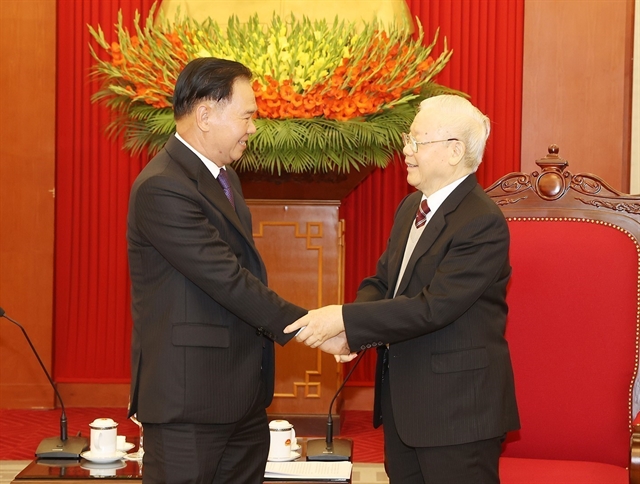 Party General Secretary Nguyễn Phú Trọng receives LPRP's Secretary and Chief of Office Thongsalith Mangnomek. — VNA/VNS Photo Trí Dũng
HÀ NỘI — Party General Secretary Nguyễn Phú Trọng on Friday received Secretary and Chief of Office of the Lao People's Revolutionary Party (LPRP) Central Committee Thongsalith Mangnomek, who is on a working visit to Việt Nam.
During the meeting, the Lao official congratulated Việt Nam on its achievements in recent years, expressing his belief that under the leadership of the Communist Party of Việt Nam (CPV), the Vietnamese people would continue to gain greater achievements, and successfully implement the 13th Party Congress's Resolution.
He said he was delighted at the special solidarity between Việt Nam and Laos, which is increasingly expanding in different forms across fields. He thanked Việt Nam for its significant support to Laos in its liberation struggle in the past and national construction and development at present.
The Lao official highly valued cooperation between the offices of the two countries' Party Central Committees in recent times, saying that they coordinated to well perform assigned political tasks, and effectively organised activities in the 2022 Vietnam-Laos, Laos-Vietnam Solidarity and Friendship Year.
The two sides discussed and agreed on a plan implementing their cooperation agreement in the 2021-25 period, and agreements reached by senior leaders of the two parties and the two countries, he added.
For his part, the Vietnamese Party chief congratulated Laos on its achievements after two years of implementing the 11th Party Congress's Resolution, showing his belief that under the leadership of the LPRP, the Lao people would continue to obtain more achievements.
He affirmed that the Party, State and people of Việt Nam always attached great importance to the special relations with Laos, and strongly support the national renovation, protection and construction cause of Laos.
He highlighted the sound development of the Việt Nam - Laos special solidarity and comprehensive cooperation, saying that it had importantly contributed to maintaining political stability, national defence, security and socio-economic development in each country.
The two Parties and countries would need to continue to strengthen and improve the efficiency of cooperation to meet new requirements; and share and support each other to overcome difficulties, he said.
The General Secretary emphasised the important position and role played by the two offices in giving strategic advice to the Party Central Committee, the Politburo, and the Standing Committee of the Secretariat of their countries.
He suggested the two offices continue to enhance the exchange of theoretical and practical issues and experience, and closely coordinate and help each other in the strategic work, and effectively implement cooperation agreements between the two offices and between the two parties' senior leaders.
On the same day, the Lao official had talks with Chief of Office of the Vietnamese Party Central Committee Lê Minh Hưng. — VNS