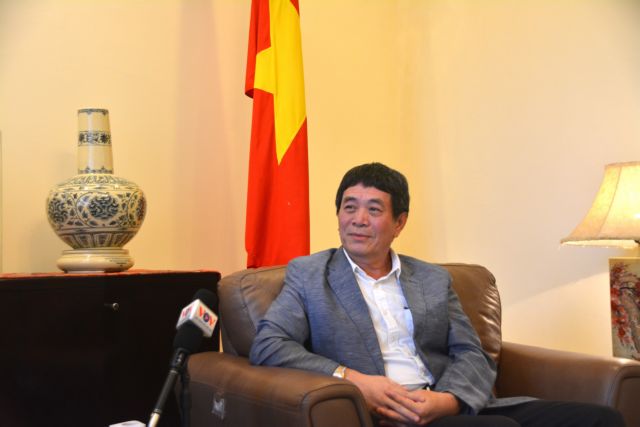 Ambassador Nguyễn Hải Bằng, Permanent Representative of Việt Nam to ASEAN, during the interview with Vietnam News Agency. — VNA/VNS Photo Văn Phong
JAKARTA — Vietnamese Minister of Foreign Affairs Bùi Thanh Sơn's attendance at the ASEAN Foreign Ministers' Meeting Retreat (AMM Retreat) in Jakarta on February 3-4 will contribute to enhancing solidarity and consensus in the ten-member grouping, thus elevating Việt Nam's role and position in ASEAN and international forums, a Vietnamese diplomat has said.
In an interview granted to the Vietnam News Agency ahead of the AMM Retreat, Ambassador Nguyễn Hải Bằng, Permanent Representative of Việt Nam to ASEAN, said given the current complicated circumstances, the meeting is expected to offer an opportunity for ASEAN FMs to discuss and reach consensus on the bloc's orientations.
The ministers are expected to propose initiatives and solutions to cope with challenges in the region and the world, strengthen the bloc's solidarity, enhance ASEAN's centrality in the region, and facilitate recovery of the entire association and each member nation, the ambassador continued.
According to Bằng, on the sidelines of the AMM Retreat, Son and his counterparts in ASEAN will pay courtesy calls to Indonesian President Joko Widodo, and hold many bilateral meetings.
Since joining ASEAN, Việt Nam has proven its role as an active, responsible member that is willing to lead and contribute to building rules for the bloc.
At the upcoming retreat, Việt Nam will propose initiatives aiming to improve institutional capacity and operational efficiency of ASEAN agencies and review the implementation of the ASEAN Charter for timely adjustment and supplements, towards ensuring that ASEAN Community building efforts are made in an effective and coordinated manner across all three pillars.
Also as part of the community building framework, Việt Nam will join in finalising Timor Leste's observer status and contributing to building a roadmap for Timor-Leste to secure the ASEAN membership.
According to the ambassador, another important issue at the upcoming retreat meeting is measures to materialise the Five-Point Consensus on Myanmar, and Việt Nam stands ready to engage in the process.
Other issues to be tabled for discussion include orientations to boost cooperation between ASEAN and its partners in the spirit of ensuring and promoting the centrality of ASEAN as well as mechanisms and initiatives of or led by ASEAN, including the ASEAN Outlook on the Indo-Pacific, and how to continue urging major countries to soon join the Treaty on the Southeast Asia Nuclear Weapon-Free Zone (SEANWFZ).
The present emerging international and regional issues would also be of great concern as they directly affect ASEAN, he said, noting that the task of the Vietnamese delegation was to raise initiatives in order to build a common stance, helping to ensure ASEAN solidarity and unity.
Speaking of priorities set by Indonesia as ASEAN Chair 2023 that are maintaining ASEAN's position and consolidating its centrality in the region and the world, and comprehensively spurring economic recovery and growth, turning ASEAN into a bright spot of the global economy, Bằng affirmed Việt Nam's support for and readiness to contribute to these efforts this year. — VNS