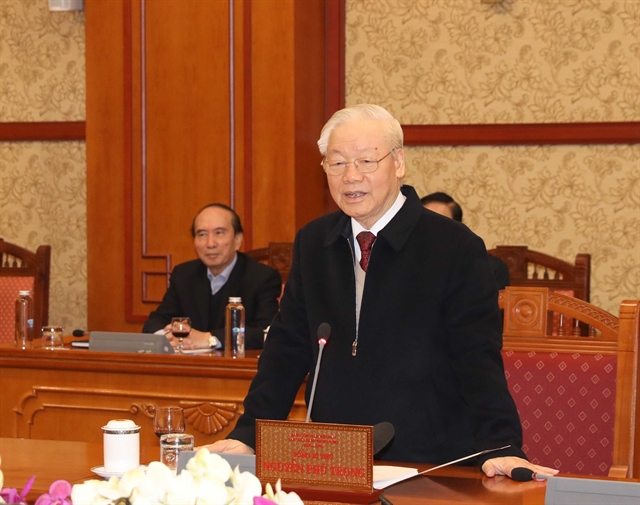 Party Secretary Nguyễn Phú Trọng chairs the meeting on Tuesday in Hà Nội. VNA/VNS Photo
HÀ NỘI — Party Secretary Nguyễn Phú Trọng on Tuesday chaired a meeting of the Secretariat of the Communist Party of Việt Nam (CPV) Central Committee, mapping out key tasks for the new year.
He urged authorities to ensure labourers return to work after the Tết (Lunar New Year) holiday, all public services and activities are performed smoothly to serve the people's needs, and to ensure production activities of individuals and businesses are not affected by the long holiday.
The Party chief also ordered ministries, agencies and localities to focus on accelerating industrial and construction activities, and continue supporting sectors directly hit by the COVID-19 pandemic and the impacts of the global market, including services, logistics, aviation, tourism, textile, footwear, wood production and processing.
It is also important to implement measures to maintain national security, social order and safety, as well as strengthen the fight against crimes, especially drug-related ones, gambling and other social evils, he said.
They must also ensure social welfare measures and pay attention to improving the lives of workers, among others, the Party chief said. — VNS