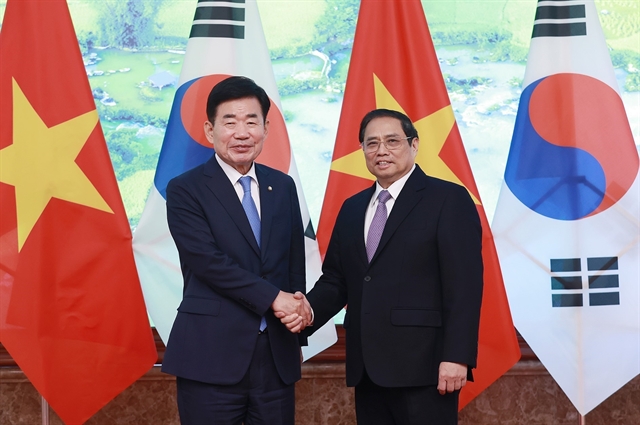 Vietnamese Prime Minister Phạm Minh Chính welcomes Speaker of the Republic of Korea's National Assembly Kim Jin-pyo in Hà Nội on Tuesday. — VNA/VNS Photo Dương Giang
HÀ NỘI — Prime Minister Phạm Minh Chính affirmed that Việt Nam always viewed the RoK as an important and long-term strategic partner during his meeting with Speaker of the Republic of Korea (RoK)'s National Assembly (NA) Kim Jin-pyo in Hà Nội on Tuesday.
Both host and guest noted with satisfaction that the two countries' relations had been developing unceasingly in all aspects over 30 years since bilateral diplomatic relations were set up.
At present, the RoK is ranking first among foreign investors in Việt Nam with total capital reaching US$80.5 billion; second in terms of development cooperation, tourism, and labour; and third in terms of trade with revenue hitting $88 billion in 2022. About 8,000 Korean enterprises are operating in Việt Nam. Meanwhile, some 200,000 citizens of each country are living in the other country, including about 80,000 multicultural families.
PM Chính congratulated the RoK on its national development achievements and thanked the country's State, NA, and people for their precious, practical, and effective assistance for Việt Nam in the recent past.
Congratulating Việt Nam on fast and steady economic growth amid difficulties, Speaker Kim appreciated the Vietnamese Government's attention to the development of the Korean business community.
He called on the Government of Việt Nam to support his country's hosting of World Expo 2023 in Busan; continue facilitating Korean firms' operations in Việt Nam; help Korean banks open branches; facilitate RoK citizens' travel, work, and life in Việt Nam; and back the expansion of the RoK's educational establishments in the Southeast Asian nation.
PM Chính has pledged to consider his guest's proposals.
To achieve the goals of the Việt Nam - RoK comprehensive strategic partnership, he asked Kim and the RoK's parliament to continue promoting substantive, efficient, and effective cooperation; increase all-level delegation exchanges and meetings between the countries' Parties, Governments, and NAs; intensify cooperation in security and defence, especially the defence industry; and help Việt Nam improve the capacity of its law enforcement forces at sea.
As economic ties remain an important pillar of bilateral cooperation, Chính asked the two sides to work together to fruitfully implement the Việt Nam - RoK Free Trade Agreement (VKFTA) and the Regional Comprehensive Economic Partnership (RCEP) to raise bilateral trade to $100 billion in 2023 and $150 billion by 2030 in a balanced and sustainable manner.
Việt Nam would welcome Korean enterprises' expansion of investment, especially in high technology, science - technology, innovation, green economy, digital economy, digital transformation, clean energy, smart city, and eco-city development, the PM noted, calling on them to create conditions for Vietnamese businesses to take part in supply chains to help Việt Nam soon become a centre of regional and global value chains.
He expressed his hope for the RoK's continuation of ODA cooperation mechanisms and assistance for Vietnamese people in the RoK. He also pledged support for Korean investors and citizens in Việt Nam.
At the meeting, PM Chính also affirmed that Việt Nam always paid attention to and would be ready to actively contribute to the denuclearisation of the Korean Peninsula, and that it advocated efforts to maintain peace in the Northeast Asian region via dialogue and by peaceful means.
For his part, Speaker Kim said the RoK supported and shared the common vision on the safeguarding of security, safety, and freedom of navigation and overflight in the East Sea; the maintenance of peace, stability, and legal order; the peaceful settlement of sea disputes; and the ensuring of countries' rights and legitimate interests in line with international law, including the 1982 UN Convention on the Law of the Sea (UNCLOS). — VNS