Vice president suggests deepening Viet Nam-Hungary economic ties
Vice President Võ Thị Ánh Xuân said there was much room for Việt Nam and Hungary to develop their relations when the two-way trade turnover reached just around US$1 billion in 2021 while receiving First Officer of the Hungarian NA Márta Mátrai in Hà Nội on Friday.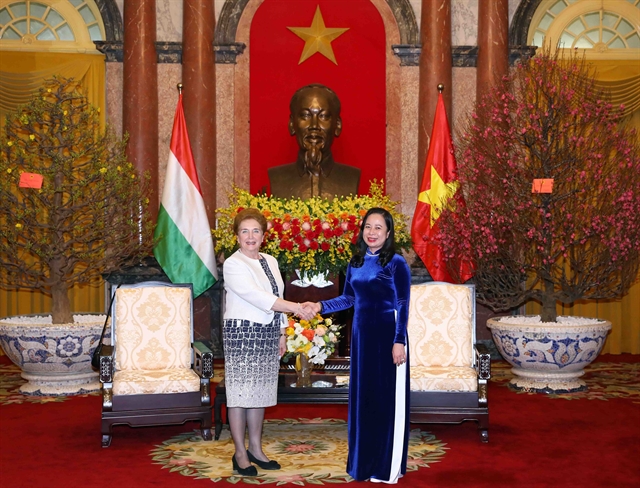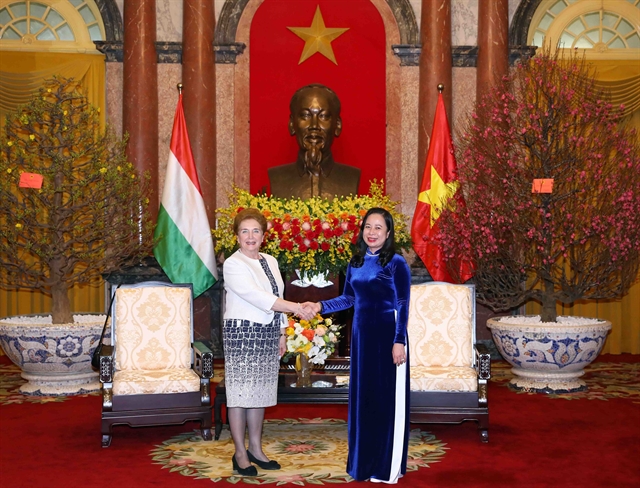 HÀ NỘI — Vice President Võ Thị Ánh Xuân said there was much room for Việt Nam and Hungary to develop their relations as two-way trade turnover reached US$1 billion in 2021 while receiving First Officer of the Hungarian National Assembly Márta Mátrai in Hà Nội on Friday.
The two countries needed to have more activities to promote trade, economy and investment, she said.
Xuân also said she wished that the two countries would increase the level of cooperation activities in all fields more practically and effectively in the future. The two sides should continue to enhance exchanges of high-ranking delegations and support each other at multilateral forums to maintain the traditional friendship.
Expressing delight and thanks for Hungary's support for Việt Nam in Official Development Assistance and cooperation in education and training, Xuân said the two countries should also continue to boost cooperation in other fields such as science and technology, innovation and healthcare, particularly in COVID-19 prevention and control.
As a female leader, Vice President Xuân wished the two sides to pay more attention to promoting gender equality.
She expressed delight at the results of talks between the Hungarian delegation and high-ranking leaders of Việt Nam over the past few days and believed that the visit would be a good start for further development of the cooperation between the two national assemblies and the two countries.
Xuân congratulated Hungary for its socio-economic achievements over recent years, particularly in effectively controlling COVID-19 and thanked Hungary for assisting Việt Nam in the fight against the pandemic, helping Việt Nam to gradually stabilise and recover socio-economic development.
Mátrai briefed on the results of her meeting with National Assembly Chairman Vương Đình Huệ on Thursday and said she wanted the two sides to continue strengthening cooperation in science and technology, economy and training.
Meeting with NA leader
NA Chairman Huệ on Thursday hosted a reception for Mátrai who noted with pleasure the maintenance of high-level meetings, both online and in-person, between the two countries' legislative leaders despite the pandemic.
She expressed a hope that the two sides would continue organising meetings between parliament committees and friendship parliamentarians' groups after the pandemic is brought under control to exchange information and experience in parliamentary activities.
She also looked forward to the organisation of the third seminar on a selected topic to bring into full play cooperation mechanisms, thus helping to raise the operational quality and efficiency of each legislature.
Apart from the diplomatic ties, Hungary attached importance to economic links with Việt Nam, Mátrai said, adding that Việt Nam was an important partner of Hungary and the Central European nation wanted to push ahead with projects and agreements signed during Prime Minister Viktor Orban's visit to Việt Nam in 2017.
She noted that Hungary had given Việt Nam a preferential credit package worth EUR500 million to implement development support projects, and the two countries had also partnered in health care and culture.
She expressed her delight at the construction of the Cần Thơ oncology hospital with funding from the Hungarian Government's ODA loans, which is expected to be operational this year.
NA Chairman Huệ praised Hungary's role in the signing and ratification of the EU-Việt Nam Free Trade Agreement and noted that Hungary has been the first country in the EU to approve the EU-Việt Nam Investment Protection Agreement.
The Vietnamese NA would work to accelerate and supervise the disbursement of the credit package provided by Hungary, Huệ said, suggesting the two legislatures reach more comprehensive cooperation agreements. — VNS
Source: VNN
Maybe You Also Interesting :
» NA Chairman meets Vietnamese entrepreneurs from across Europe in Hungary
» Việt Nam, Hungary agree to boost agicultural cooperation
» National Assembly Chairman arrives in Hungary, begins official visit