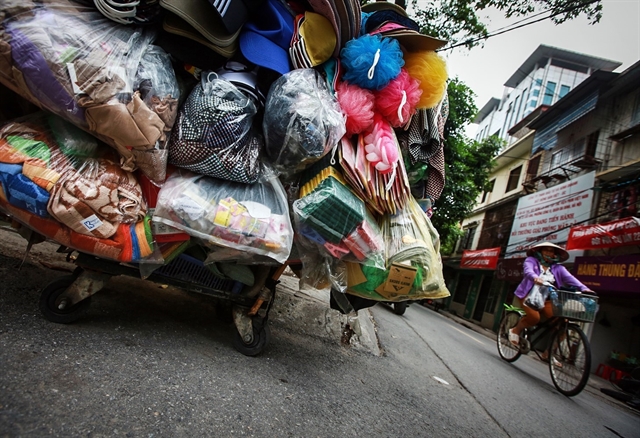 Plastic bags are popular with street vendors in Hà Nội. VNA/VNS Photo Trọng Đạt
Việt Nam has an average monthly usage of one kilogram of plastic bags per household, making it one of the top consumers in the world. In Hà Nội and HCM City, an astonishing 80 tonnes of plastic products and bags are disposed of daily, and many are non-biodegradable.
The Ministry of Justice has announced plans to increase the tax rate of non-biodegradable packaging materials, including styrofoam boxes used for food packaging, to limit the use of plastic bags and other such materials.
Professor Dr Đặng Hùng Võ, former Deputy Minister of Natural Resources and Environment, recently discussed the matter with the VOV Traffic online newspaper.
Like other countries, the environmental protection tax is one of Việt Nam's most important tools for reducing the use of plastic bags. However, the rate of VNĐ50,000 (US$2) per kg is low compared to other countries. What is your comment about the issue?
The environmental protection tax applied in many countries and territories is rather high. In the UK, the rate tax is VNĐ1,400 per bag. The amount in China's Hong Kong is VNĐ1,500 per bag. In Ireland, it is VNĐ6,600 per bag.
Compared to other countries, the environmental protection tax rate for plastic bags in our country is rather low.
However, if we apply the tax rate by weight, people will have many technological solutions to make bags thinner to reduce the amount of tax. There are also other ways to reduce taxes. The use of plastic bags is still popular.
Việt Nam's tax policy has many shortcomings, but the management infrastructure is inadequate to collect taxes. It is difficult for authorised agencies to manage business households that produce plastic bags or foam boxes in a small-scale model and at night. Therefore, the current tax rate and tax collection method are not effective.
The Ministry of Justice has proposed to increase the environmental protection tax on non-biodegradable packaging to be equivalent to other countries in the world. Do you think this will help prevent pollution?
I think this proposal is reasonable. Consumers often have the habit of using cheap and convenient items, regardless of their pollution to the environment. Financial penalties must be used to change this habit.
Hopefully, the rise in tax rates will make people think twice and gradually change their habits and create a new awareness of the use of non-biodegradable packaging.
However, tax rates alone are not enough. I agree that a legal mechanism is needed to reduce the consumption of plastic bags and single-use plastic products, but we need more education on the mass media and other forms.
We should promote solutions to change people's living habits so that they have clean living habits to keep the environment clean. – VNS