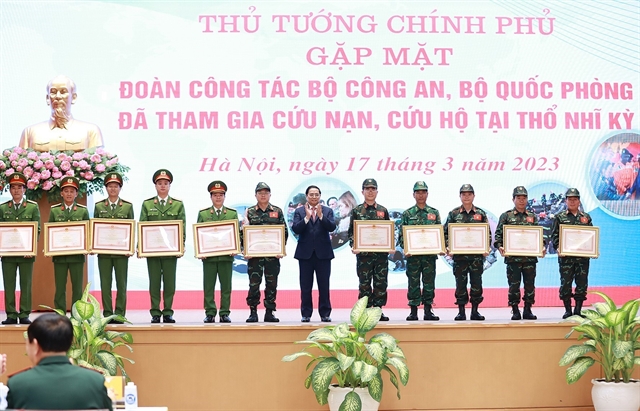 Prime Minister Phạm Minh Chính presents Certificates of Merit to soldiers who participated in humanitarian assistance and disaster relief in Turkey. VNA/VNS Photo Dương Giang
HÀ NỘI – Prime Minister Phạm Minh Chính has praised the valiant efforts of a team of 76 comrades from the Ministry of National Defence and 24 from the Ministry of Public Security who were deployed to Turkey for disaster relief following last month's devastating earthquake.
This was the first time Việt Nam sent such a team to participate in search and rescue efforts in a foreign country, a significant milestone in the nation's international humanitarian efforts.
Despite challenging conditions, the Ministry of Public Security successfully rescued one person from the rubble and located the remains of 14 individuals after the 7.8 magnitude quake.
The team also delivered two tonnes of medical equipment and medicines to authorities in Turkey and visited residents to offer support.
Major General Phạm Văn Tỵ, Deputy Director of the Search and Rescue Department under Việt Nam People's Army's General Staff, said between February 13 and 22, the Ministry of National Defence team identified 15 locations where victims were buried under the debris and recovered 28 bodies.
In cooperation with Mexican and Bahraini rescuers at the three other locations, the team handed the sites over to local forces, who recovered at least ten more bodies from the rubble.
The team donated US$4,000 to support people in buying necessities and presented 25 tonnes of relief goods to affected residents.
PM Chính said the team had performed their task quickly in extremely harsh weather conditions despite language barriers and cultural difficulties. In the noble spirit of international cooperation, bravery and high responsibility, all members engaged in the mission and raced against time to save survivors.
The team implemented the principles and command orders at the scene, especially the safety principles in search and rescue. One soldier even delayed marriage to undertake the humanitarian mission to Turkey.
PM Chính warmly praised the Ministry of Public Security and the Ministry of National Defence for advising authorities in handling international issues and closely coordinating with ministries, sectors, localities and relevant forces to ensure the earthquake disaster relief team in Turkey completed the task.
He said that that has contributed to improving the prestige and position of Việt Nam in the international arena and further strengthening the close solidarity between Việt Nam and Turkey.
The PM noted that by participating in the relief mission in Turkey, Việt Nam gained experience deploying rescue activities abroad and thoroughly assessed the country's capacity to respond to non-traditional security issues.
The Prime Minister stressed that the country should prepare forces and means of transport suitable for all types of incidents and disasters and conduct regular training and drills to be ready for emergencies.
He emphasised that in the future, climate change will become more extreme, complicated and unpredictable, and rescue work in natural disasters will play a very important role in the cause of ensuring national security and social order and safety.
PM Chính said perfecting policies and laws in rescue and search is an urgent task. He asked the two ministries to coordinate with other ministries and branches to solve non-traditional security issues.
He stressed regular training for situations caused by natural disasters, fires and explosions and urged the development of a coordination mechanism between functional forces in the implementation of their duties.
The PM also requested the two ministries to evaluate and take lessons in preparing and organising forces, means and equipment to perform rescue tasks, and from international rescuers in Turkey to improve emergency response, recovery, and reconstruction capacity.
On this occasion, PM Chính presented Certificates of Merit to soldiers who participated in humanitarian assistance and disaster relief in Turkey. – VNS