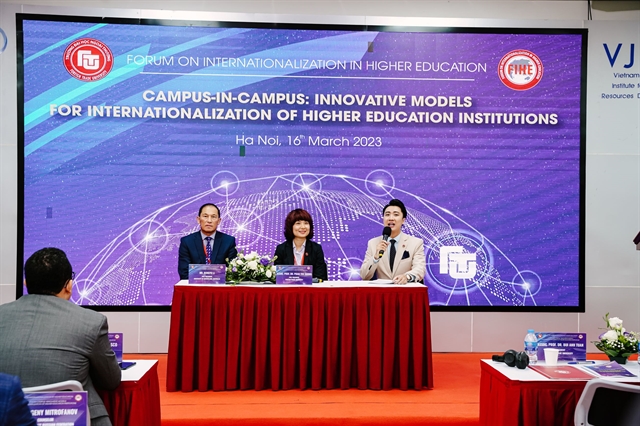 A panel discussion at the sixth international forum on internationalisation in higher education (FIHE 6) in Hà Nội on March 16. — Photo courtesy of FTU
HÀ NỘI — "Campus-in-Campus: Innovative Models for Internationalisation of Higher Education Institutions" was the main theme of the sixth international forum on internationalisation in higher education (FIHE 6) taking place in Hà Nội on March 16.
The FIHE 6 attracted more than 200 representatives from over 80 educational institutions, organisations and businesses domestically and internationally as well as 25 embassies in Việt Nam.
The annual event, which has been an initiative of the Foreign Trade University (FTU) since 2017, is a forum for higher education institutions to exchange ideas, explore collaboration opportunities and pursue their internationalisation goals.
Speaking at the event, FTU president Bùi Anh Tuấn said that internationalisation activities at universities have become one of the most important and urgent tasks to improve the quality of education and provide global learning experiences for Vietnamese students as well as international students in Việt Nam.
"Higher education institutions need to realise the importance of replacing traditional approaches and build new partnering models to optimise borderless resources for training programmes, documents, and facilities and ultimately achieve sustainable development for higher education," said Tuấn.
"With the aim towards a win-win partnership, reduction of competition and optimisation of education, research and other resources without any national or international barriers, the Campus-in-Campus (CiC) model can be considered a breakthrough initiative in the internationalisation of higher education by sharing resources of campuses among partner institutions. This will facilitate and enhance borderless mobility including but not limited to programmes, curricula, students, and faculty among higher education institutions across regions and by that, making full use of available resources. Education for all in this case can be done through Sustainable Development Goals," said Tuấn.
At the event, speakers said that the internationalisation of education was no longer a new topic. However, unequal resource allocation and economic gaps have created significant differences among countries. This is a time when higher education institutions need a strategic vision and effective resource utilisation. In this context, cross-border cooperation in higher education plays an important role in the development of higher education institutions, and the CiC model can help these institutions maximize resources for the benefit of stakeholders.
A highlight of the FIHE 6 was an open fair on internationalisation in higher education. The fair showcases the internationalisation activities of FTU's partner universities and organisations. It also provided a platform for stakeholders in the higher education ecosystem to share experiences, lessons learned, and critical points to consider when implementing internationalisation in higher education. — VNS