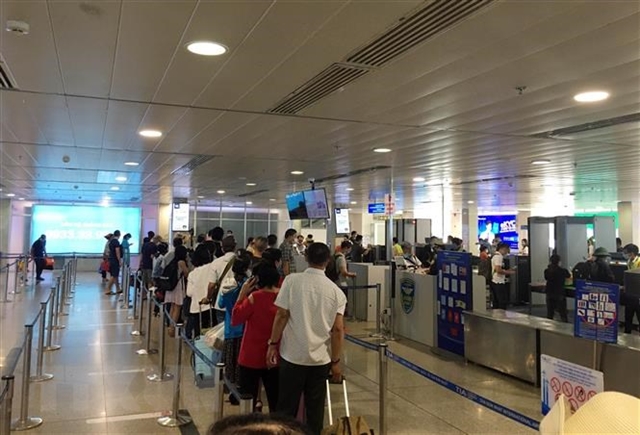 Passengers wait for security screening at HCM City's Tân Sơn Nhất International Airport. ù VNA/VNS Illustrative Photo
HÀ NỘI — Four Vietnam Airlines flight attendants have been detained by customs officials in HCM City on Thursday afternoon for allegedly smuggling 10 kilograms of drugs from France to Việt Nam.
The flight attendants were caught after being on duty on the VN10 flight from Paris to HCM City. This incident has sent shockwaves through the aviation industry, with the Civil Aviation Authority of Vietnam launching an investigation into the matter.
Vietnam Airlines on Friday announced it has suspended the four flight attendants from work and is closely coordinating with the authorities to provide accurate information about the case.
The incident has raised concerns about the prevalence of illegal smuggling and commercial fraud by air. The Civil Aviation Authority of Việt Nam has requested units to strengthen supervision to detect and handle such activities. Airlines have been asked to be responsible for flight crews while on duty and to request strict observance of anti-smuggling, commercial fraud, and counterfeit goods laws during aviation activities.
Authorities have also directed aviation security departments to focus on assessing the situation to prevent and combat illegal smuggling.
This is not the first time that Vietnam Airlines flight attendants have been involved in a controversy. In May 2022, nine Vietnamese flight attendants were found to be carrying over US$41,000 on a flight from Australia to Việt Nam.
Although this was a random inspection and Australian authorities made no allegations against the flight attendants, the incident raises further questions about the practices of flight crews. Việt Nam has yet to receive an official report from Australian authorities about this case. — VNS