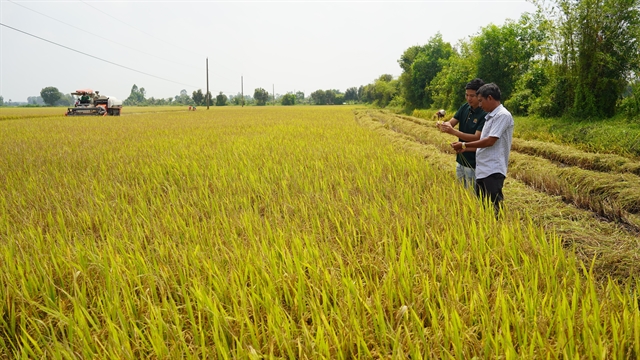 Rice fields in Tây Ninh Province's Trảng Bàng Town planted under a commercial contract between a co-operative and a processing company. — VNA/VNS Photo Thanh Tân
TÂY NINH — The south-eastern province of Tây Ninh has established linkages between various agricultural stakeholders to improve production efficiency and value.
Farmers in Hòa Hợp Hamlet in Châu Thành District's Hòa Thạnh Commune are tying up with a company to grow tím rice, a new high-yield variety, starting this year.
The grain has an average yield of 6.5 tonnes and fetches farmers VNĐ20-25 million (US$850-1,000) per hectare per crop.
The company provides farmers 150 kilogrammes of rice seeds for sowing per hectare and buys their paddy at VNĐ500 a kilogramme higher than popular varieties grown in the province.
Phạm Văn Dô, head of the hamlet, said if the fields of contracted farmers are affected by natural disasters or diseases, the company would subsidise their tilling expenses by half.
Farmers are increasingly establishing co-operatives and co-operative groups to grow rice and other agricultural produce on a large scale and thus increase quality and value.
The co-operatives and co-operative groups have linked up with companies to ensure guaranteed outlets and prices for their members.
The province has such linkages for 10 key agricultural items, including cassava, sugarcane, custard apple, banana, and rice, according to its Department of Agriculture and Rural Development.
It also ensures processing companies have a steady and reliable source of inputs, which enables them to better manage their production, it said.
Besides, the farmers are trained to apply advanced farming techniques to increase yields and quality, it added.
Both sides also benefit from the preferential policies in place to foster these linkages.
The province helps crop and aquaculture farmers adopt Vietnamese good agricultural practices (VietGAP) standards and small and medium-sized companies develop value chains for agricultural products.
Hoàng Hữu Hậu, chairman of the Hùng Hậu Agricultural Service and Production Co-operative, which grows rice and vegetables and distributes agricultural inputs in Hòa Thạnh Commune, said to ensure the linkages are sustainable, authorities should strengthen advocacy about their benefits and honouring farm contracts.
They should help co-operatives improve their human resources and persuade large companies to tie up with them, he said.
Tây Ninh, the country's largest custard apple producing province, has 200ha of its 5,490ha under the fruit grown under farm contracts.
It is also one of the country's largest sugarcane producing provinces with most of its 6,135ha of sugarcane grown under contracts.
It has also developed linkages for breeding cattle, pigs and chicken, with 92 per cent of milk produced in this manner.
Though it has developed linkages for the animal husbandry sector, the incidence is not large, and the sector lacks high-value products and intensively processed products, according to the department.
Nguyễn Đình Xuân, director of the department, said to develop linkages all parties should commit to honour contracts.
Thus, farmers should strictly follow the production processes stipulated in the contracts and not sell their products to others when market prices are higher than contracted prices, he said.
Conversely, companies should not push prices down or let farmers cope with risks when market prices are lower than contracted prices, he said.
Companies and large co-operatives should have capacity and vision, and regularly update market information to set up production plans that meet consumer demand, he said.
They should work towards developing hi-tech, clean and organic agriculture with origin traceability to improve quality, value and competitiveness, he added. — VNS