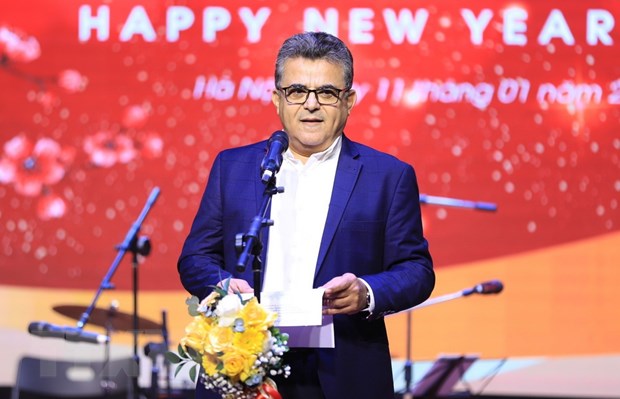 Palestinian Ambassador to Việt Nam Saadi Salama.VNA/VNS Photo
HÀ NỘI – The book "Câu chuyện Việt Nam cửa tôi" (My Vietnam story) in Vietnamese version, written by Palestinian Ambassador to Việt Nam Saadi Salama for nearly five years, was published in early 2023.
Talking with Vietnam News Agency in Vietnamese language with Hà Nội accent, Ambassador Salama said he had come to Việt Nam for the first time as a predestined affinity, then stayed and became closer to the country also due to predestined affinity.
When being awarded with a scholarship from Việt Nam when he was 19, he said he aspired to travel to the Southeast Asian country not only for Vietnamese study but also for answer to its glorious history in national construction and defence.
While attending the University of Hanoi (now Việt Nam National University, Hanoi), his love for Việt Nam and its people deepened. Following graduation, he worked for Palestine's representative diplomatic agencies in Việt Nam, Laos, Yeman, Ghana, among others.
But like a predestined affinity, his life milestones were associated with Việt Nam decades ago. During 1982-1983, he was secretary in charge of information at the Office of the Palestine Liberation Organisation (PLO) in Việt Nam. From 1989-1991, he was vice ambassador at the Palestinian Embassy in Việt Nam. Later, he has served as Ambassador of Palestine to Vietnam since 2009 and head of the Palestinian diplomatic corp in Việt Nam since 2019.
Salama affirmed that he always considers Việt Nam his second homeland. His responsibility is not only to foster friendship and cooperation between Việt Nam and Palestine but also to popularise Việt Nam as a nation of long-standing culture and peace loving.
His book is a gift manifesting his sentiment for Việt Nam, giving the Vietnamese an insight into a foreigner's view on the country's changes. Its English version is due to be published in March.
His another project is rewriting this book in Arabian language to help Arabian people understand more about Việt Nam.
The diplomat also used to translate the book "Điện Biên Phủ - Five unprecedented prodigious facts in the war history" by Mai Trong Tuan and several poems in President Hồ Chí Minh's " Prison Diary" into Arabian language to introduce to Palestinian people and Arabian countries.
Impressed by Việt Nam's integration process, he expressed his firm belief that Vietnam will continue succeeding on its own road.
As 2023 marks the 35th anniversary of Palestine-Việt Nam diplomatic ties, he wished more joint activities would be held to nurture Việt Nam 's understanding of Palestine's culture and people and vice versa, contributing to growing bilateral ties.
Concluding the conversation, Salama said life has changed and is changing with many things that are no longer the same, but one thing will never change, that is, a part of his heart has belonged to Việt Nam. VNS