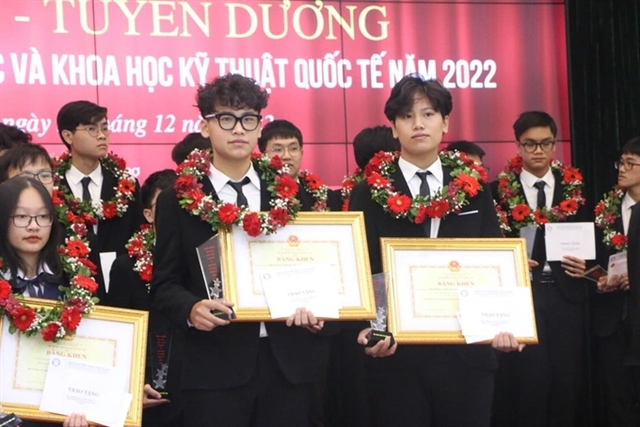 Brothers Phạm Nguyễn Quang Huy and Phạm Nguyễn Gia Bảo won US$33,000 from the Arizona State University ISEF Scholarship. — Photo dantri.vn
HÀ NỘI — At the 2022 International Science and Engineering Fair (ISEF) held in the United States, brothers Phạm Nguyễn Quang Huy and Phạm Nguyễn Gia Bảo won one of Việt Nam's two Grand prizes.
Huy and Bảo's project, titled "Responsible customer behaviour in protecting the environment by young people" won grand prize and a US$33,000 scholarship from Arizona State University.
According to Huy and Bảo, the project started from their observance of common plastic bag usage, especially among young people. The two students want to forge a "green" habit among consumers, helping to protect the environment.
They ventured into organising events and posted on social media sites to raise awareness, as well as establishing "green consumerism" clubs and recycling plastic waste.
The young men concentrated on research of sociology, and used statistics as well as knowledge in many other subjects to finalise their research project.
"Sometimes parents are even more worried than the kids," said Nguyễn Thị Việt Hà, Huy and Bảo's mother.
Huy and Bảo went to the same school at Phan Huy Chú High School in Hà Nội, and while Bảo is still in the 11th grade, Huy is now studying abroad.
According to Hà, Huy has been fascinated with research work since the 9th grade.
"When Huy was in the 9th grade, he struggled in learning English. He then devised a way to learn the language through games," said Hà.
"For his own method, he even learned how to code. Although the project stopped early, it became a platform for Huy to grow and learn more," Hà added.
Hà also noted that the award-winning project is also credited to their way of observing life.
"Whenever we travel to our hometown, there's always garbage everywhere. Even in rivers inside Hà Nội, there is garbage in the water.
"The kids saw that and wanted to make a change in people's ways in using plastic products, so that the environment can be protected," said Hà.
According to Hà, she and her husband also provided constructive feedback to Bảo and Huy, so that the two could prepare for the presentation before the judges.
From their parents' and teachers' initial feedback, the project developed further.
Because the project was carried out during the pandemic, there were challenges for the brothers in conducting research. Many phases of the project and the competition had to be done remotely online.
"After the rounds, the judges also gave their feedback, which gave great experiences for the kids," said Hà.
The brothers were also honoured in a ceremony on December 26, 2022. — VNS