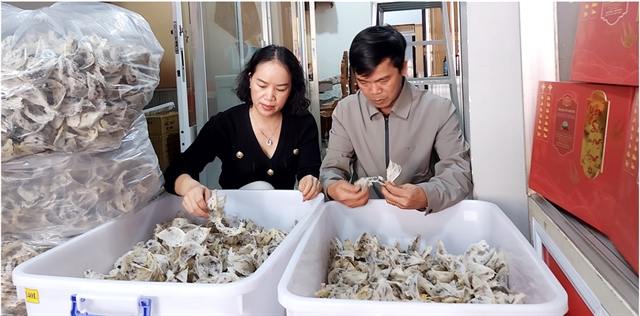 Nguyễn Văn Toàn and his wife checking bird nests. Photo danviet.vn
GIA LAI – Swiftlet farming for edible bird nests has flourished in Gia Lai Province in recent years and has helped many households get rich.
For a long time, edible bird nests, dubbed "white gold", have been nutritious food and very expensive.
Exploitation of the bird nest in nature is really a hard job because swiftlets often nest on craggy cliffs.
In recent years, people have built houses to raise the birds for their nests.
The family of Phan Ngọc Sơn in Chư Ty Town of Đức Cơ District has been engaged in swiftlet farming since 2018.
Over the past four years, this profession has brought his family a high and stable income.
"My farm is in a less populated area in Ia Krieng Commune. In 2018, through the mass media, knowing that many households have become rich from raising swiftlets, I decided to take a risk," Sơn told danviet.vn.
"My first house for birds with an area of ​​​​about 70 sq.m was built at the end of 2018," Sơn said. "By 2019, I built two more houses. Currently, every month, my family earns more than VNĐ20 million (US$850) from selling bird nests."
"The revenue is very high for a farmer specialising in agricultural production like me," he said.
In Ayun Pa Commune, the household of Nguyễn Văn Toàn was one the first families to raise birds.
After 13 years of doing swiftlet farming, he became the rich man of the commune.
Currently, his family has a total 10 houses of swiftlets that bring his family dozens of billion of đồng per year.
In addition, Toàn also provides construction services and installs technical equipment to attract the birds for other households in the district.
"The climate of Gia Lai Province is suitable for swiftlets. So birds breed very fast, and that helps many households in the province change their lives. In Ayun Pa Commune, many households get rich from raising the birds. And my family has a very high annual profit," Toàn said.
Phan Tiến Dũng, president of the Bird's Nest Association of Chư Sê District, was a pioneer of raising birds in the area.
"In 2014, I renovated the second floor of the house to raise swiftlets. I got success from the first house, then I replicated many other houses. Currently, with the selling price of VNĐ18-20 million ($766-820) per kilo of raw nests, my family earns VNĐ5-6 billion ($230,000-256,000) per year," Dũng said.
There are currently 300 swiftlet houses in Chư Sê District owned by about 100 members of the district's Bird's Nest Association.
Most of the swiftlet houses have been in operation for a long time and they bring the breeders high incomes.
"Many households, who once struggled because of the mass death of pepper trees, are now rich again thanks to bird nest farming," Dũng said.
According to Nguyễn Văn Hợp, head of the Chư Sê Agriculture Department, up to now, there are a total of 250 households raising the birds in the district.
"The initial investment costs are large, but the income is very high. With the selling price of VNĐ18-20 million per kilo of raw nests and VNĐ28-30 million ($1,200-1,300) per kilo of refined nests, many households have become well off," said Hợp.
According to Bùi Trọng Thành, head of the Agriculture Department of Phú Thiện District, the district has 45 households in the bird farming.
"Many families earn VNĐ500-700 million annually from this profession. In particular, families who raise the birds for seven or eight years or more have an income of VNĐ1-2 billion per year," Thành said.
In order to contribute to promoting the socio-economic development of the locality, recently, authorities have called for businesses to invest in swiftlet farming in Phú Thiện District.
Sustainable development solutions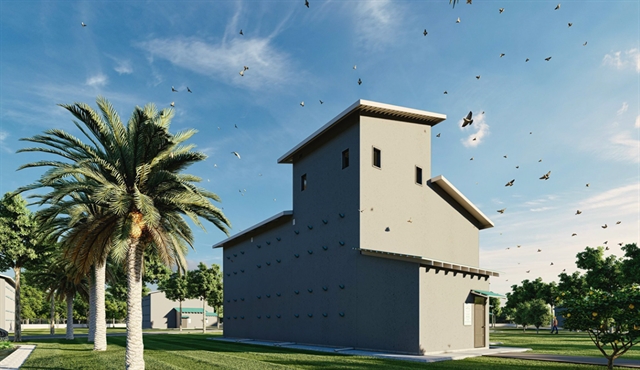 A house for raising swiftlets of Phố Yến Co-operative in Phú Thiện District, Gia Lai Province. Photo danviet.vn
The Tây Nguyên (Central Highlands) Province of Gia Lai possesses the potential to develop swiftlet farming to a new level with the increase in the number of farming houses in the province in recent years.
Districts have also planned farming areas, established bird nest associations and made OCOP (One Commune One Product) products from bird nests towards sustainable development.
Nguyễn Minh Đăng, head of the Natural Resources and Environment Department of Phú Thiện District, said that the department has made a detailed plan on swiftlet farming for bird nests in the area.
Accordingly, except for Ia Sol Commune with 10 hectares of farming, the remaining localities plan to have five hectares of land to raise swiftlets.
If any farmer wants to switch to swiftlet farming, she or he must go to the district's land registration office to register a change of land use purpose.
Nguyễn Viết Duy, representative for Phố Yến Co-operative, said that from the call for investment of Phú Thiện District, his co-operative launched a tourism model of visiting swiftlet farms.
The co-operative has 99 bird houses in five communes in the district. The co-operative is willing to sell the houses to people who want to engage themselves in the business.
Possessing favourable conditions, Đức Cơ District identified swiftlet farming as a new business in the agricultural restructuring plan for the period 2025-2030 so the district has implemented many activities to support farmers.
Nguyễn Quốc Tư, head of the Đức Cơ Agriculture Department, said: "The number of swiftlet flocks and the quality of bird nests in Đức Cơ District are not inferior to other localities."
"This is an advantage to develop this business to help farmers develop household incomes," Tư said.
According to statistics, there are more than 220 swiftlet raising houses in the area. In the coming time, the district would organise large-scale farming models as well as invest in branding the Đức Cơ bird nests, he said.
In particular, last year, the district had two bird nest products that were recognised with the provincial 3-star OCOP certificate.
Currently, China has officially imported Việt Nam's bird nests. This is a great opportunity because only about 15 per cent of the market demand has been met, according to Tư.
However, the district also recommends that people should not develop swiftlet farming in a massive manner to avoid risks. In some provinces in the South Central region, swiftlet farming has not brought high economic efficiency any longer due to rampant farming. VNS