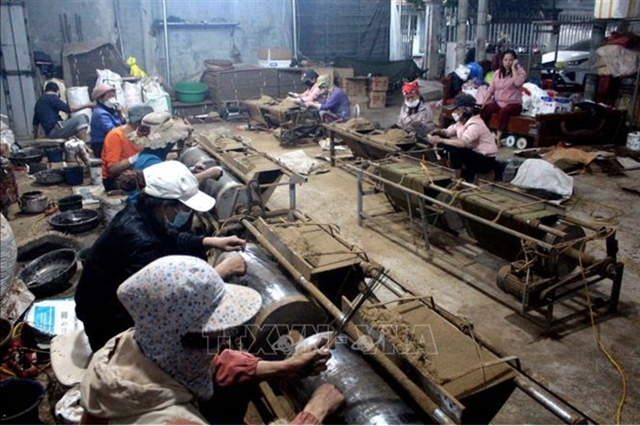 A workshop making incense in Yên Cát Village. — VNA/VNS Photo Nguyễn Nam
THANH HOÁ — People in Yên Cát Village of Thanh Hoá Province are busy making incense as Tết (Lunar New Year) is coming nearer.
Making incense is a traditional job of the Thổ ethnic people of Yên Cát Village in Như Xuân District.
Yên Cát incense is made from natural materials such as harabell, resin of canarium plants, charcoal and bamboo, and is absolutely free from chemicals.
Through many sophisticated stages, with skillful hands, Thổ ethnic people in Yên Cát Village have made beautiful incense sticks, which have been very popular with consumers for many years.
After many rounds of filtering, canarium resin is mixed with powder of harabell and charcoal to make a thick and aromatic mixture.
Then, the incense makers roll the paste around bamboo sticks which are dried under the sun for two to three days.
The craft of making incense is passed down from generation to generation of Thổ people.
Yên Cát incense is produced all year round. However, in the last months of the year, the village becomes busier than ever because the traditional new year is approaching.
The incense makers are busy mixing the incense powder, and rolling and drying incense sticks. Everyone is working hard to complete the last orders.
Lương Thị Sao, a long-time incense maker, said that her family has a tradition of making incense sticks, so from a young age, she was used to the scent.
Then she was taught by her grandparents and parents how to combine ingredients and roll the sticks.
"There have been ups and downs with the craft but over the past decade, my family has earned from this," said Sao.
"Thanks to making incense sticks, my family has a stable income, especially in the months leading up to Tết," Sao said.
During this time, there might be not enough products to sell, she said.
The craft of incense making has created jobs not only for the villagers but also for workers in neighbouring localities.
In the past, making incense was very difficult because all the stages were done manually. Nowadays, many households in Yên Cát Village are equipped with machines such as dryers, pounders and mixers that help make the work much easier and more productive.
The income of the workers has improved significantly. Many families earn about VNĐ1 billion (US$42,000) per year from making incense sticks.
Branding
Implementing the One Commune One Product (OCOP) programme, Như Xuân District authorities mobilised the incense makers to establish a co-operative to produce incense sticks as provincial OCOP products.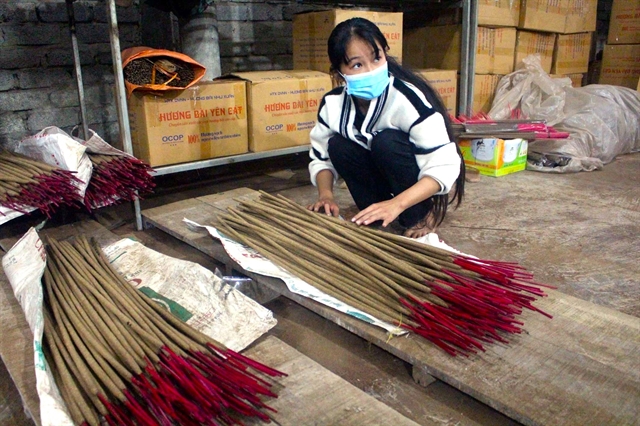 A worker preparing incense sticks for customers. — VNA/VNS Photo Nguyễn Nam
Currently, Yên Cát Incense Co-operative has 13 members. On average, the co-operative produces 35,000-40,000 incense sticks per month, creating jobs for nearly 20 permanent workers and dozens of seasonal workers with an income of VNĐ4-6 million ($160-250) per person per month.
With the efforts of members to improve product quality, by the end of 2021, Yên Cát incense was recognised as a three-star OCOP product of Thanh Hoá Province.
Yên Cát incense products are not only widely sold in the domestic market, but are also exported to many countries in Asia and Europe to serve overseas Vietnamese.
Hoàng Thị Oanh, deputy director of Yên Cát Incense Co-operative, said that since the incense products met the three-star OCCOP standard, the co-operative has expanded product promotion by participating in e-commerce platforms.
With herbal ingredients, non-toxic to users and producers, last year, Yên Cát incense sticks were officially exported to Dubai.
The cooperative is negotiating contracts with businesses from India, the United States and other countries, Oanh said.
"The products of Yên Cát incense meet the current consumer trend of choosing clean and organic products that are safe for people's health and environmentally friendly," she said.
Lê Đình Huấn, chairman of the people's Committee of Yên Cát Township, said that according to the concept of the Thổ ethnic group in Yên Cát, incense making is not only a national identity but also an indispensable cultural feature in the spiritual life of Vietnamese people.
"The products are widely sold domestically and internationally, which is an opportunity for Yên Cát incense sticks to affirm the brand and raise the product value," said Huấn.
In order to develop the traditional incense making craft, Như Xuân District has a policy to promote the expansion of growing areas for materials in Bình Lương Commune and Yên Cát Township.
The district also opened vocational training classes for the young generation to both bring in income and keep the traditional craft of the Thổ ethnic group, he said. — VNS