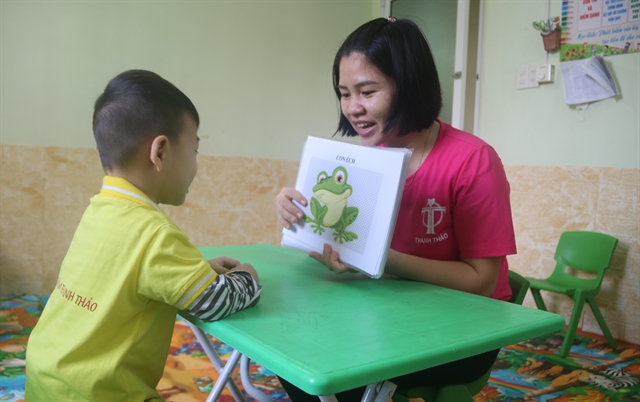 Teacher Trần Thị Liễu teaching one of her special needs students. — VNA/VNS Photo Thu Hoài
THÁI BÌNH — Thanh Thảo Inclusive Education Development Support Centre in the northern province of Thái Bình for many years has been the second home of special needs children.
With enthusiasm, dedication and appropriate educational methods, the teachers at the centre have helped many children with autism and intellectual disabilities integrate into the community like other children of the same age.
Despite being 10 years old, H's perception is like that of a three-year-old child.
Even though he is in class, he is always free to walk, cry or sing uncontrollably.
The teachers at Thanh Thảo Inclusive Education Development Support Centre often have to stop the lessons to help him calm down and return him to a stable psychological state.
This is normal at the centre.
Every day, the teachers start work at 6.30am receiving children. But it takes a long time to settle down the classes to start lessons because the teachers have to help children control their behavior and emotions when they are away from their grandparents and parents to go to school.
Teachers in this centre work harder than at other preschools because they not only teach but also have to comfort the children. The teachers must understand each child's personality and mental capabilities to have appropriate intervention methods.
Đặng Thị Nga, a lead teacher, said that each child has their own difficulties with autism, speech delay, attention deficit hyperactivity disorder (ADHD), and intellectual and motor development disability.
"Currently at this centre, the youngest child is 14 months old and the oldest is 14 years old," said Nga.
"According to procedures, at the beginning of admission, each child is initially screened to assess developmental milestones for age. This is an important basis for experts to provide intervention and support methods for children depending on the severity of the disease," Nga said.
"Every one month to three months, teachers re-evaluate the student to decide on the suitable method for the child's development based on consultation from specialists," the teacher said.
Teaching children who are six or seven years old but have the perception of a baby without simple skills such as talking, dressing or going to the toilet is really hard work for the teachers.
Teachers here are even beaten or bitten by their students.
Showing a bruise on her arm, Trần Thuỳ Linh, teacher of an individual intervention class, just laughed and considered it a part of her job.
Every day, Linh has individual interventions for nine children.
Linh said that the job of teaching autistic children is quite complicated.
"Each autistic child is a world of its own and each teacher must be patient to be able to "step" into that world to play and learn with the child and step by step bring them into the community," Linh said.
"Therefore, even the smallest progress of a child with autism takes a long time. Sometimes just training children to sit still for 10-15 minutes takes months," she said.
Meanwhile, the early intervention class of teacher Trần Thị Liễu has 17 children but only one or two can talk.
Liễu said that if normal people look at children with autism, they would be startled by their actions.
However, as a teacher of special needs children in the centre, Lieu only feels pity, love and pain because of the disadvantages they have to endure, she said.
Joy of simple things
After graduating from Đà Nẵng Sport University, Phạm Thị Giang decided to study more professional and pedagogical skills and become a kindergarten teacher for special needs children.
Giang said: "Teaching the children is very hard work. Most of us have to self research the psychology and personality of each child to set up suitable lessons."
"Common skills such as saying hello and goodbye to teachers and parents every time they come to school is really difficult for the children at the centre," Giang said.
"To help the children do these simple skills is a process requiring strong effort by both the teachers and the children," she said.
Meanwhile, teacher Đặng Thị Nga always remembers one typical autistic schoolboy.
"When coming to the centre, he was quite shy with poor concentration and did not want to communicate with teachers and other children, he just liked to play alone," Nga recalled.
"Fortunately, he was detected early by his parents and brought to the center for timely intervention," Nga said.
"After four years of learning at the centre, he has integrated and become a second grader to the joy of his family and teachers," the teacher said.
According to deputy director of Thanh Thảo Inclusive Education Development Support Centre, Trịnh Thị Thanh, the centre was established in 2016 under the Việt Nam Psycho-Pedagogical Association.
The facility in Thái Bình City has 17 teachers teaching 50 children in group intervention classes and 20 children in individual intervention classes of different ages.
The centre is the first school in the province licensed to perform the task of intervention and support for special needs children under the management of the provincial Department of Education and Training.
"In the coming time, in addition to improving its quality and expertise, the centre will step by step come under the general education system, opening up opportunities for support and intervention for many special children," said Thanh. — VNS