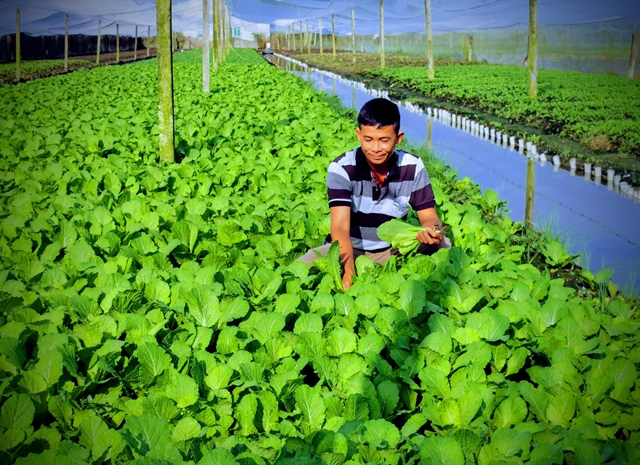 Vegetables grown in a net house in Cần Thơ's Cái Răng District. — VNA/VNS Photo Thanh Liêm
CẦN THƠ — The Cửu Long (Mekong) Delta city of Cần Thơ is spending VNĐ67.5 billion (US$2.9 million) to help farmers and agricultural co-operatives and companies develop linkages from now through 2025.
Nguyễn Tấn Nhơn, deputy director of the city Department of Agriculture and Rural Development, said to receive financial support under the project, beneficiaries need to have plans for developing linkages for a period of three to five years and should produce agricultural goods under value chains.
The department is helping them make plans for developing linkages, training them in business skills, new farming models and advanced farming techniques, production, and sales and apprising them about regulations.
The city has 151 agriculture co-operatives with more than 2,900 members and 1,435 agriculture co-operative groups with nearly 46,000 members.
Of them, only 44-55 co-operatives, mostly agricultural, have linked up with companies.
Nguyễn Minh Hiền, head of the city Sub-department of Rural Development and Forest Protection, said the linkages among agriculture co-operatives and companies lack sustainability as breaches of farm contracts remain a problem.
Most tie-ups are for short terms since companies depend on markets, he said.
Most agricultural products in the city are sold through traders and often suffer from price volatility depending on the harvest.
It is to help farmers get steady prices that the city is creating linkages between various stakeholders in the chain.
The city is also focusing on creating concentrated farming areas to ensure farmers can easily access advanced techniques and reduce costs to improve their incomes.
It is also encouraging farms to adopt Vietnamese good agricultural practices (VietGAP), organic and other quality standards.
In recent years Cần Thơ has strongly developed key farming segments such as rice, vegetables, fruits, seafood, and poultry.
It has more than 114,000ha of farmlands, or 80 per cent of its total area.
Farmers grow rice on 76,000ha, fruits on 24,000ha and vegetables and other crops on the remaining area.
The city is restructuring its agriculture to increase added value and ensure sustainable development.
To develop organic farming, it has zoned 4,000ha for rice, 1,300ha for fruit and 150ha for vegetables.
The department is collaborating with companies to produce rice and Hoà Lộc mango to organic standards. — VNS