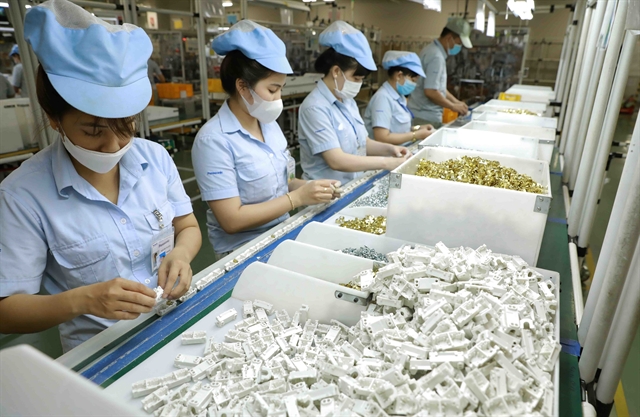 Workers in an industrial park in the southern province of Bình Dương. — VNA/VNS Photo Vũ Sinh
HÀ NỘI — The average salary bonus for Tết is estimated to increase by about 10 per cent compared to the previous Lunar New Year.
Tống Văn Lai, deputy director of the Labour Relations and Wage Department under the Ministry of Labour, Invalids and Social Affairs said that all provinces and cities had sent their reports on salary situations this year and plans for Tết bonus for their workers.
Lai said that depending on the production and business results of each business, the bonus levels are kept the same as every year, equivalent to one month's salary.
The average bonus is calculated to increase by about 10 per cent, he added.
State-owned enterprises are expected to give an average bonus of VNĐ6.5 million (US$274) per labourer (15 per cent higher than the previous Tết); private enterprises will give an average bonus of VNĐ6.6 million ($278) per labourer (10 per cent higher than the previous Tết); and foreign-invested enterprises will give an average bonus of VNĐ7.2 million ($303) per labourer (nine per cent higher than the previous Tết), he said.
Lai also said most businesses are paying attention to preparing Tết bonuses for their employees.
"There is a big difference between the highest and the lowest Tết bonus," he said.
Among the enterprises that announced Tết bonus plans, some will pay up to a billion đồng per labourer, however, other enterprises announced bonus of only VNĐ50,000- 500,000 ($2-20), he said.
Đà Nẵng City is the locality with the highest Tết bonus of more than VNĐ1 billion ($42,200).
The number is VNĐ896 million ($37,800) in Bình Dương Province, VNĐ760 million ($32,000) in HCM City, VNĐ535 million ($22,590) in Bà Rịa-Vũng Tàu Province, VNĐ400 million ($16,890) in Hà Nội, VNĐ379 million ($15,990) in Bắc Ninh Province, VNĐ307 million ($12,960) in Đồng Nai Province.
Lai said that the high Tết bonus is mainly in foreign-invested enterprises.
"The highest Tết bonus amount is only given to a few excellent individuals in an enterprise, aiming to recognise their contributions," he said, adding that when evaluating Tết bonus, it is important to pay attention to the average bonus level to see the overall situation, he said.
Paying attention to salary, Tết bonus
Trần Thị Thanh Hà, head of Labour Relations Department under Việt Nam General Confederation of Labour Although, said although the labour law does not stipulate that Tết bonus is mandatory, most enterprises have a plan for Tết bonus depending on their situation of production and business.
Hà said the Tết bonus will often be based on negotiations between employees and employers or grassroots trade unions with employers.
Therefore, the confederation has ordered trade unions at all levels, especially grassroots trade unions, to always focus on negotiating salary and bonus for employees, she said.
In the first months of this year, many businesses in the country recruited many workers thanks to high orders. But in the second half of this year, the labour market changed. Then, many businesses have met difficulties, she said.
However, many businesses still try to maintain jobs and prepare Tết bonus for their employees, she said.
Even though the levels might be different among businesses, it is remarkable efforts while the businesses are still facing many difficulties, she said. — VNS