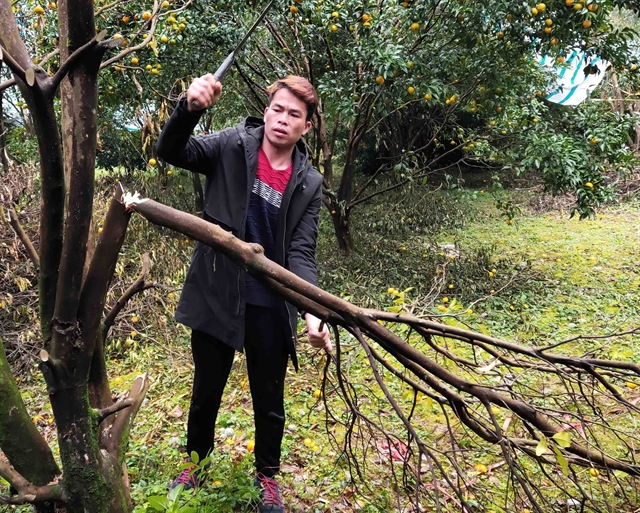 Hoàng Văn Diện, a tangerine grower in Bản Niếng Village, Quang Hán Commune, Cao Bằng Province, is forced to cut down the tangerine trees because of the pest devastation. VNA/VNS Photo Quốc Đạt
CAO BẰNG — In an ancient stilt house at the foot of the mountain in Bản Niếng Village, in the northern mountainous Cao Bằng Province, Hoàng Văn Diện brings firewood to the kitchen to cook breakfast for his family.
The pile of firewood under his floor was probably the most expensive firewood he had ever used.
Those are the firewood from the tangerine trees - the speciality of the province - that brings hundreds of millions of đồng to his family every year.
Sadly, it was cut down for firewood.
Diện's family has been growing tangerines for more than ten years.
In the days approaching Tết every year, the garden with more than 100 tangerine trees can bring more than VNĐ100-200 million (US$4,200-8,400) in revenue to his family.
However, over a year, his tangerine trees turned yellow and died despite being sprayed with many pesticides.
In recent months, he had to cut down more than 30 tangerine trees and will chop down 50 more trees after this crop.
Diện's family and hundreds of tangerine growers in Quang Hán commune, Trung Khánh District, may not be able to welcome a happy Tết like every year.
Quang Hán tangerine has long been famous for its quality, attracting traders across the country to buy this fruit.
Many traders from China come to buy the whole garden.
Tangerine trees have been grown in Cao Bằng province for more than 20 years, helping lift residents out of poverty.
Some households can earn several hundred million đồng, even nearly VNĐ1 billion ($42,400) from selling tangerines.
The area of tangerine cultivation in Quang Hán commune has reached 103ha from some ha since 2000, mainly in Bản Niếng, Vững Bền, Nà Pò, Pò Mán and Bản Lòa villages.
However, the tangerine garden has suffered heavy damage over the past two years.
Quang Hán Commune People's Committee reported that 209 orange and tangerine orchards died due to diseases.
Many households have had to cut down all trees.
Currently, the whole commune only has about 25ha of tangerines.
The newly planted trees also get sick and die.
Hà Minh Hải, head of the Agriculture and Rural Development Department of Trùng Khánh District, said the agency sent agricultural engineers to learn and research treatment methods.because of diseases
Samples showed tangerines in Quang Hán commune suffer from yellow leaf disease and root rot. This very dangerous disease often occurs on citrus fruit trees such as oranges, lemons, tangerines, and grapefruits, and there is no cure.
The average lifespan of a grafted tangerine tree is approximately 10-12 years.
Most of the tangerines in Quang Hán commune have been grown for more than ten years, so they easily get sick and die, Hải said.
According to the crop growth, farmers must harvest tangerines in December and let the trees recover for the next crop.
But tangerine growers try to keep the tree until Tết to sell it at a higher price, greatly affecting the tree's health, he said.
The local agriculture department has directed farmers to cut down infected trees and switch to other crops to minimise damage and take better care of other trees to ensure good growth.
A tangerine orchard in Quang Hán village is chopped down to grow maize and sweet potatoes. VNA/VNS Photo Quốc Đạt
Quang Hán tangerine was granted the Certificate of Intellectual Property Protection by the National Office of Intellectual Property - Ministry of Science and Technology in 2016, making it easier for farmers to consume their products.
In 2018, Trùng Khánh district planned tangerine production areas to form specialised and concentrated production areas; research and apply for scientific and technical advances in farming, harvesting and product preservation towards clean and organic agriculture, meeting sustainable development needs.
Along with growing oranges and tangerines, in recent years, some households in Bản Niếng have invested in raising buffaloes, bringing high economic efficiency.
Income from animal husbandry and growing oranges and tangerines has improved people's lives.
The village currently has 87 households. They all grow oranges and tangerines with a total area of more than 27ha.
There are only four poor households left in the whole village.
More than 20 households have an average annual income of over VNĐ100 million.
The agricultural sector of the border province achieved good growth in 2021; many organic agricultural products are available on the market and well received by consumers.
This year, the agricultural sector has coordinated with localities to effectively implement the smart agriculture project for the 2020-2025 period, with a vision to 2030; expanding production areas, said Nguyễn Ngọc Truân, deputy director of the provincial Department of Agriculture and Rural Development.
The sector has also invested in irrigation, agricultural material supply, converting inefficient cultivation areas to crops that can adapt to climate change, and effectively implementing funding sources to support afforestation, barn relocation and development of cattle and breeding. — VNS