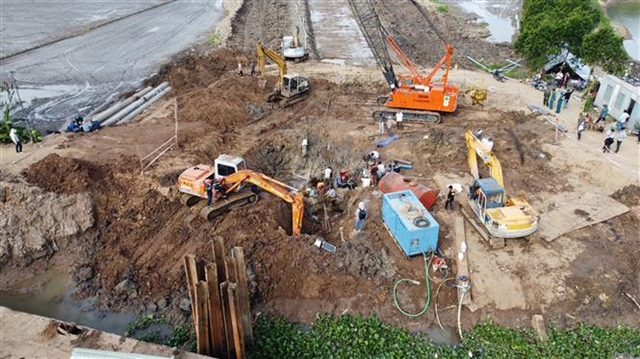 A view of the scene. VNA/VNS Photo
ĐỒNG THÁP — Rescue forces of Đồng Tháp Province today managed to save a 10-year-old boy who fell into a concrete pillar hole.
At 11.30am on December 31, the boy, Thái Lý Hào Nam, entered a construction site on provincial road No 857 in Phú Lợi Commune, Đồng Tháp Province to collect scrap metal with two other boys. He fell into a 35-metre deep concrete pillar hole.
Thirty minutes after that, the rescue team arrived at the scene and tried various ways to save him. They tried to pull the pillar out but failed. Oxygen and water were provided to the boy in the hole.
The rescue team worked all night long to rescue Nam. This morning, the team of some 100 people conducted three excavators and one crane to dig the hole and pull the concrete pillar out.
By 11.30am this morning, the boy was finally taken out of the hole. — VNS