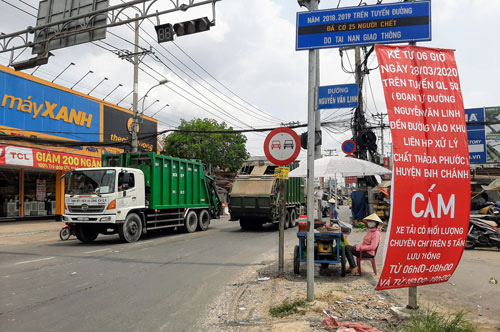 National Highway 50 started to be widened. Photo: nld.com.vn
HCM CITY— The HCM City Department of Transport started to widen the busy National Highway 50 on Tuesday.
The project will start from Nguyễn Văn Linh Avenue and end near Long An Province, with a total length of 6.9 kilometres.
From Nguyễn Văn Linh Avenue, a 4.4-km road section will be constructed in parallel with the current National Highway 50, and for the remaining 2.5 km, the national highway will be upgraded and widened.
The project also includes the construction of a new bridge that will be 40m long and 34m wide, as well as the expansion of an existing bridge.
After the expansion, the highway will have six lanes instead of the current four.
The total investment capital will be VNĐ1.5 trillion and sourced from the State budget.
Currently, the People's Committee of Bình Chánh District has completed 85 per cent of the compensation and clearance work and will finish this work in the second quarter of 2023.
The project is expected to be completed by the end of 2024.
According to the Transport Department, the project will boost connectivity between HCM City and Long An and other Mekong Delta provinces, the under-construction Bến Lức-Long Thành expressway and other major roads of HCM City.
National Highway 50 is a westbound road of HCM City and traffic congestion is a daily occurrence on this road. VNS