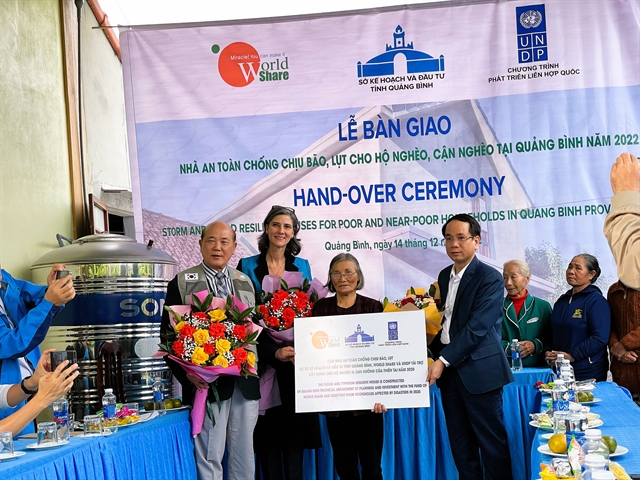 The handover ceremony of storm- and flood-resilient houses to poor and near-poor households in Quảng Bình Province. — Photo courtesy of UNDP Việt Nam
QUẢNG BÌNH — The United Nations Development Programme (UNDP), the Department of Planning and Investment of Quảng Bình Province, and World Share handed over 73 new storm- and flood-resilient houses to poor and near-poor households living in disaster-prone areas, in preparation for the Day for the Poor on December 31, 2022.
Since 2021, a total of 112 resilient houses have been built within the framework of this tripartite cooperation.
The central province of Quảng Bình is one of the localities that often suffers from disasters. In October 2022, Storm No. 4 caused flooding in 40 places and triggered seven landslides affecting traffic routes. Several regions were isolated and inundated, especially in Minh Hoá, Tuyên Hoá, and Quảng Ninh districts, and hundreds of homes were flooded across the province.
"The People's Committee of Quảng Bình Province hopes that the donors will continue to care for and support the poor people of our province, helping to provide them with long-term stability and contributing to sustainable eradication of hunger, poverty reduction, and especially disaster risk reduction," Vice Chairman of the Provincial People's Committee Phan Mạnh Hùng said at the ceremony.
Trần Thị Hiền, a resident of Quảng Xá village, Tân Ninh Commune, Quảng Ninh district, spoke on behalf of the beneficiaries. "My old house is small, run-down, and unable to hold up against storms and floods, and the area where I live gets deeply flooded," she said.
"Every year, my daughter takes me to her house in Lộc Ninh Commune, Đồng Hới City, when I hear the weather report and want to escape from storms or flooding. We return home when the storm or flood is over, but my house's furnishings and papers are soaked, blown around, and ruined when we get there. It takes me a long time to clean up and fix everything."
She added: "I am very happy to have this resilient house, since it means I won't have to worry about running anymore and my furniture won't get destroyed.
"I'll be asking my neighbours to stay at my home during storms and floods."
Park Hyeon Mo, Chairman of World Share, said: "Although the world is currently experiencing numerous challenges, including disasters like floods, droughts, and the COVID-19 pandemic, World Share will continue to help the people of Quảng Bình Province."
Speaking at the event, Ramla Khalidi, UNDP Resident Representative in Việt Nam, said: "According to a recent study on resilient housing conducted jointly by UNDP and the Ministry of Construction, over 110,000 families across 28 provinces still live in unsafe housing conditions, including more than 25,000 families in coastal districts. Of these, at least 1,000 are located in the six coastal districts of Quang Binh Province. This contribution by World Share provides practical support that improves the resilience of local poor and near-poor families to climate change shocks."
In addition to these 112 resilient houses, since 2018 UNDP and the Government of Việt Nam have built 897 storm- and flood-resilient houses in Ba Đồn, Bố Trạch, Lệ Thuỷ, Quảng Ninh, Quảng Trạch, and Tuyên Hoá districts with support from the Green Climate Fund.
These resilient housing models were jointly designed by the Ministry of Construction and the Department of Construction of Quảng Bình Province within the framework of the UNDP project "Improving the resilience of vulnerable coastal communities to climate change-related impacts in Việt Nam," funded by the Green Climate Fund.
They have all been constructed with solid foundations, frames, and roofs designed to withstand disasters, and each must also have a flood-proof mezzanine at least 1.5m above the highest recorded flood level.
The roofs should be made of reinforced concrete or other high-quality materials, such as ceramic tiles or corrugated iron, and must be strengthened with firm ties to ensure their durability. The resilient houses have already successfully withstood the impacts of several powerful floods and storms. — VNS