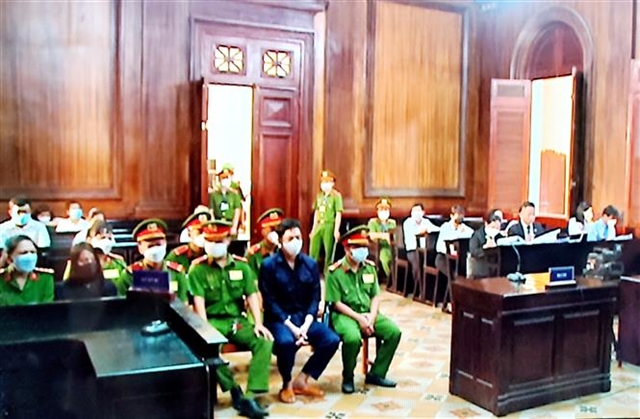 At the trial. VNA/VNS Photo
HCM CITY — The HCM City's People's Procuracy yesterday proposed sentencing Nguyễn Võ Quỳnh Trang, 27, to death for 'torturing' and 'murdering' her fiance's eight-year-old daughter last year.
The Procuracy also proposed sentencing Nguyễn Kim Trung Thái, 37, the child's father, to two to three years in prison for 'torturing others' and an additional four to five years 'concealing crimes'.
This would be a total penalty of six to eight years in prison.
According to the Procuracy, the criminal behaviour of the defendants is particularly dangerous for society as they committed crimes against a child.
According to the indictment, the girl was the daughter of Thái and his ex-wife. In August 2020, the couple divorced, and Thái was given custody.
In September 2020, Thái started living with his girlfriend Trang at an apartment in Bình Thạnh District in HCM City. The daughter also lived with them.
On the afternoon of December 22, 2021, while the father was out for work, Trang grew frustrated while tutoring the girl at home. She scolded and beat the child using a large wooden stick for four hours, leading to her death.
Knowing Trang's criminal actions, Thái deleted all the camera data of the apartment to conceal the crime and hinder the investigation. Thái's conduct constitutes a cover-up of the crime.
Regarding her motivation, Trang said she beat and tortured the child because she did not study well.
However, the child's teacher and nanny verified that the girl was obedient, polite, and a good student.
The camera data shows that Trang often beat the child.
Neighbours' testimonies also revealed that the child suffered from violence numerous times before the fatal event.
Trang was arrested on December 23, a day after the child's death, following a hospital report on the girl's unusual wounds and injuries. On December 28, she was charged.
The father was detained on December 31 on suspicion of the same crime.
The violent death triggered indignation among people nationwide. — VNS